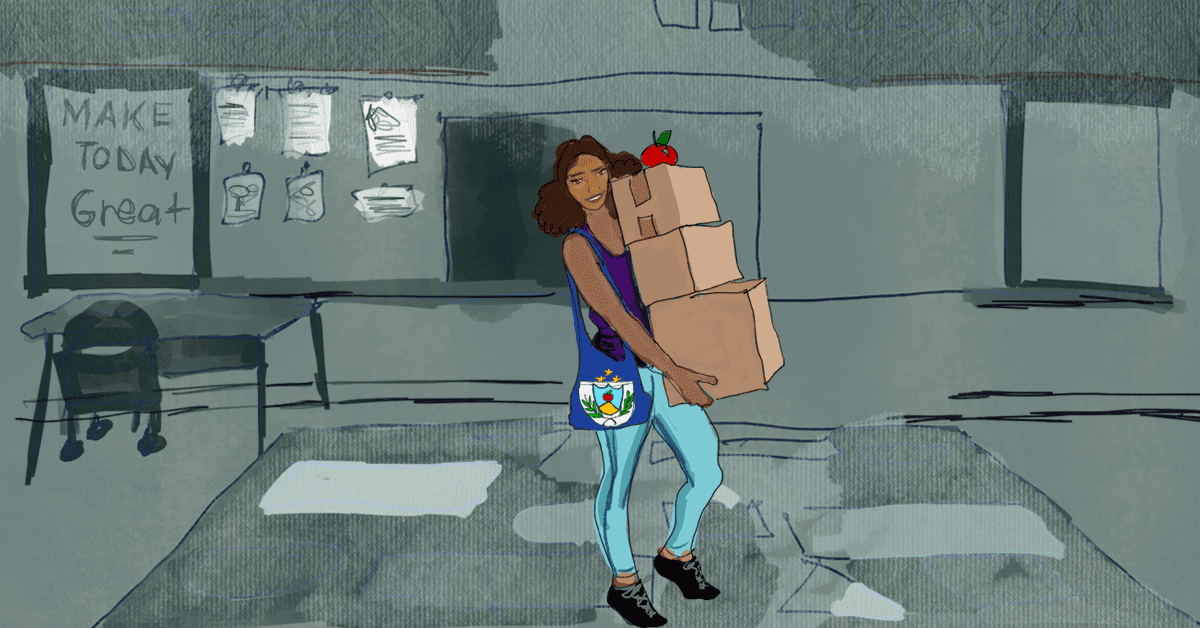 The great teacher resignation
Current and former teachers weigh in on the state of teaching today, as well as retention strategies for both the public and private sectors.
April 27, 2022
When Daphne Gomez left her teaching job in 2017, there was a stigma around teachers finding a new career path. Her mother was a teacher, and Gomez went into the profession enjoying that it's helping her community and thinking that it would be her "forever career." However, she struggled and was burnt out, experiencing stress-related illnesses amid a toxic teaching environment that had her feeling "completely broken." It was time to find another line of work.
Gomez then consulted with a Fortune 500 company, working on professional development training and instructional design. She often spoke to audiences of teachers, who would eagerly talk with her after the presentations, asking how she got out of teaching and how she enjoys working in the private sector. "I needed to create something to help them get from point a to point b," Gomez says.
With the help of an HR consultant, Gomez created her Teacher Career Coach resources, launching in 2019. Starting out, she thought only a small percentage of teachers would even look for her resources. However, she has seen such a demand for her content that she recently left her Fortune 500 job to dedicate more time to Teacher Career Coach. "I never anticipated how bad things have gotten," Gomez says.
The state of education
For many years, teachers' pay was comparable to other workers, but the gap in pay reached 18.7 percent by 2017, according to the Economic Policy Institute. Overall funding for many school districts decreased, too, leading to larger class sizes and fewer resources.
In the years before COVID, teacher strikes were sweeping the nation. West Virginia teachers went on strike for nine days in 2018, then another two days in 2019. Los Angeles teachers went on strike for six days in January 2019. Chicago teachers went on strike for 11 days that October. Arizona, Oklahoma, Kentucky, Colorado, North Carolina and numerous other states and local jurisdictions echoed similar sentiments: improve pay, reduce class sizes and improve overall resources available. The #RedforEd movement resulted in a few improvements, but some strikes struck out.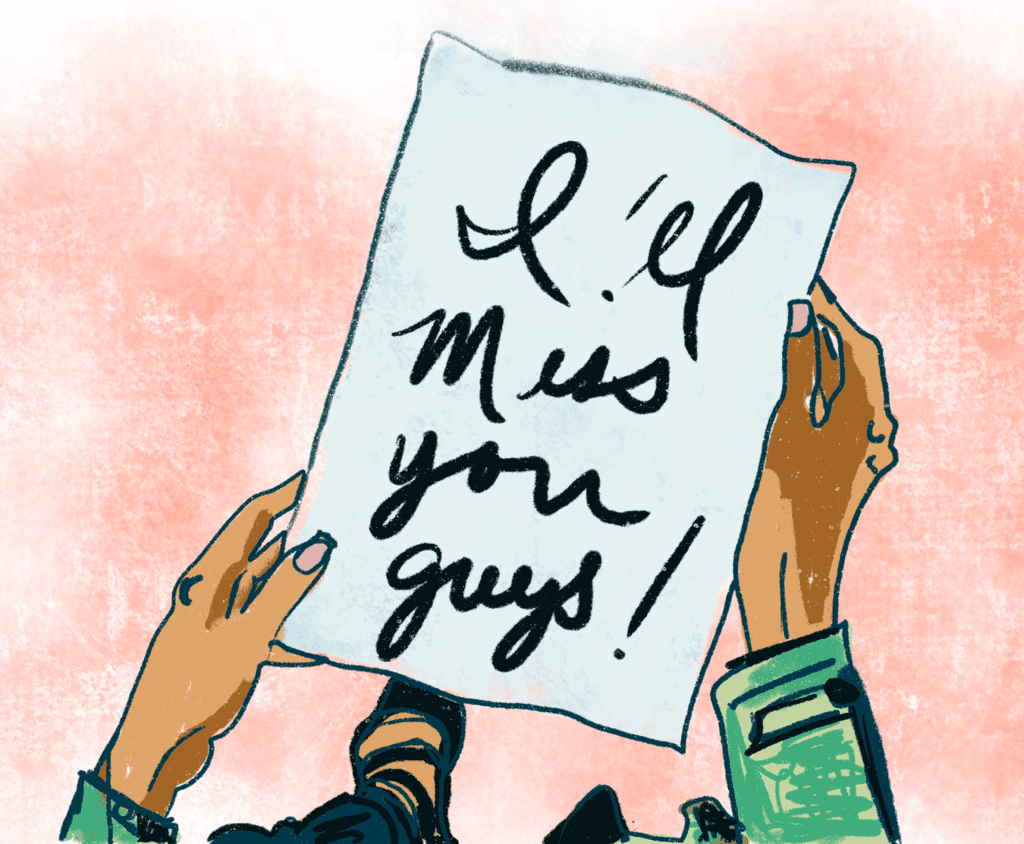 Then, when teachers across the world moved to online learning amid stay-at-home orders, teachers rose to the occasion, adjusting their curriculum and teaching style to keep the attention of a virtual classroom. After five semesters of constantly changing mandates, pivots between online and in-person learning, and the mental health struggles students and teachers alike face in the pandemic, many teachers are getting out of public education and working in the private sector. 
In fact, according to Brookings research, 42 percent of teachers in March 2021 said they'd considered retiring or leaving their role in the past year. More than half of those considering leaving indicated their sentiment was due to COVID-19.
"The majority of the teachers that I work with had already thought for the last five years or 10 years, 'Is this how I want to live the rest of my life?' But they didn't have a clear path," Gomez says. With other former teachers paving the way to exit education, their peers follow.
Amid the current Great Resignation in the private sector, educators are quitting at similarly high rates. In 2021, private educational services saw quits rise 148 percent from January to November, and quits in state and local education rose 40 percent, according to The U.S. Bureau of Labor Statistics. And districts in rural and high-poverty areas are facing greater staffing challenges than more resourced districts, according to the Center for Education Data & Research.
From the teachers themselves
Kim Glaubinger taught art classes in elementary and middle schools in New Jersey from 2003 to 2021. She loved teaching for many years, but changes in administration and responsibilities quickly soured her experience. "All of a sudden, not only was I responsible for teaching the children art, but I felt like I was almost also parenting them, too."
Revamped teacher evaluations, increased class sizes, fewer resources available for supplies and co-teachers, and short leadership tenure were major contributing factors to her frustrations. "It was just a very toxic environment because of poor leadership on the higher level."
The pandemic exacerbated the pain points teachers felt — and worsened mental health issues among students. "There's a lot of emotional issues going on with these kids. They are not OK and they are acting out." In just the past four years, students bit her, scratched her, pulled her hair and threw things at her. She was concerned for her safety.
Glaubinger was also pregnant when COVID-19 became a global issue. Along with being at home during lockdown, she says she gained a new perspective around her next career phase.
Now, Glaubinger works as an assistant manager at Life Time Inc., a fitness company, where she works with the manager of the children's program to plan activities, camps and programs. She prepares lesson plans and examples for colleagues to teach the kids, and she often has three hours or more to prepare lesson plans, which was sorely lacking during her years teaching. "I've never had that much time to prep for anything!"
In addition to the increased resources and time to perform her new role, Glaubinger enjoys the work-life balance, as well as her ability to bring her son to work. But she really lights up when talking about how she is using her skills from teaching — organizational, communication and mediating skills — but now for a different, less stressful role. "I feel like I am doing everything I've been trained for," she says.
Johnetta Jackson-Crockett, a substitute teacher for Chicago Public Schools, has also worked in the private sector during some summers, noting that she enjoyed the pay, holidays and benefits. Still, her heart is in teaching. "The best thing about school and teaching is when you see the light come on in a child's eyes." She also works with some of the children of her past students. "I had a comfortable connection with the school and the people there in the community," she says.
For 40 years, Jackson-Crockett worked as a librarian and taught a range of ages, from pre-k through eighth grade, as well as special education, gifted students and Spanish classes. She retired four years ago but returned as a substitute teacher at the request of her principal, also taking advantage of a bonus package that the Chicago Board of Education offered in an effort to ease the district's shortage of teachers.
Still, the past few years have been difficult. Jackson-Crockett says during the 2020 school year, teachers brought computers, chargers, headphones and other supplies to the homes of students, sometimes even contracting COVID in the process. "There are very few lengths teachers wouldn't try to help their students succeed," she says.
And teaching during COVID outbreaks is difficult, as it takes time to transition from in-person to remote teaching, she says. Socialization during the school year is also important to many students she sees, who often don't make connections with classmates outside of school.
Jackson-Crockett says it's hard for teachers to see students struggling and not be able to be with them like in a pre-pandemic environment. "Teachers are human beings, too," she says. "After a while, it's difficult and depressing to keep pulling yourself up."
Solutions to support teachers
Jackson-Crockett has witnessed Chicago Teachers Union strikes and negotiations between the local Board of Education and mayor, and she cautions against the negative rhetoric she hears about teachers during these times. "We have to be careful not to villainize teachers," she says.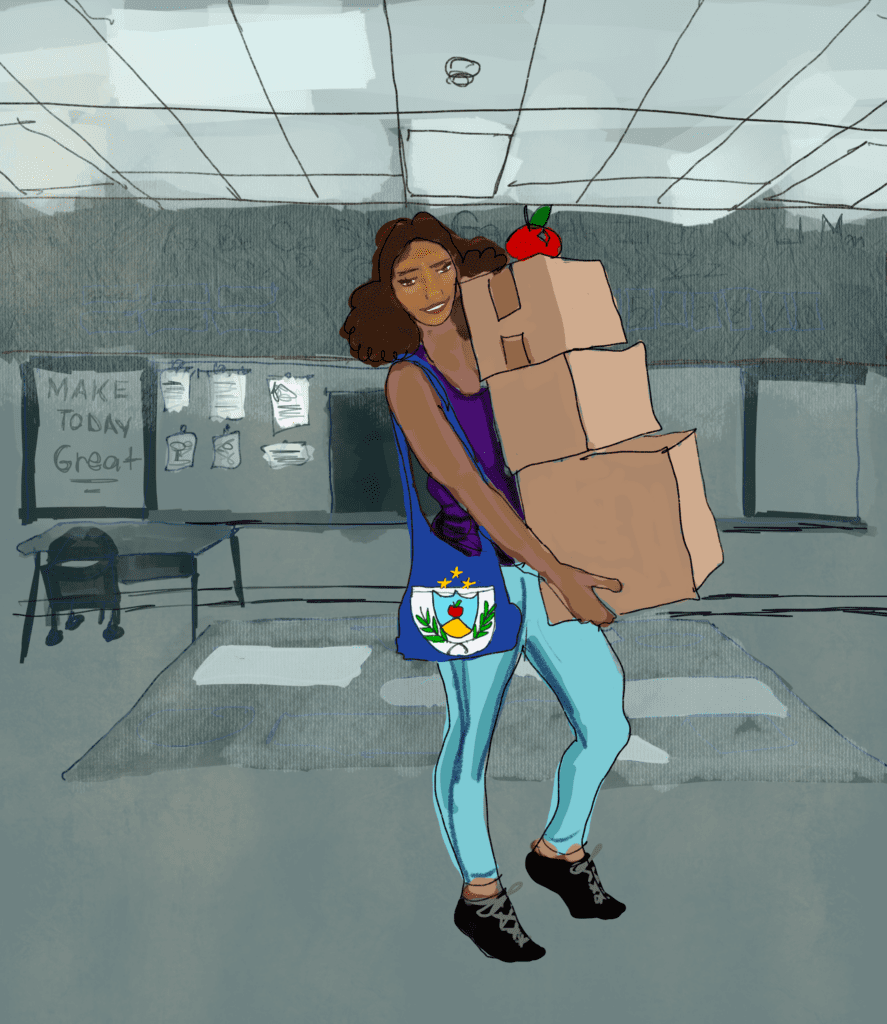 Jackson-Crockett says young people want to work in jobs where they're appreciated, respected and paid well. With a shortage of new teachers entering education and many current teachers leaving, sources for this story express concerns about the ability to recruit teachers to educate future classes. 
Teachers want decent, fair treatment, Jackson-Crockett says. "I don't think the things that teachers have asked for, in many cases, have been unreasonable."
Some teacher demands go beyond pay. Jackson-Crockett says she has become a proponent of students' access to mental health support at younger ages, as many are struggling in ways they might not even be able to express.
Teacher Career Coach's Gomez echoed sentiments about students' mental health. She says students are navigating trauma, resulting in teachers facing issues with classroom management they've never had to experience before. To help, she says school leaders should give grace to teachers and take as much off of teachers' plates as possible.
Gomez says she sees that school leaders are in a difficult positions, many doing everything they can. Still, she expects many teachers to continue leaving education. "The teacher shortage right now is also going to be something that makes everybody else's job harder," she says.
Gomez notes that, unfortunately, not all solutions fall on school administrators, but on local legislature. She encourages people to write to their local district leaders about how schools are funded, ensuring proper funding for teacher salaries and other resources.
Private sector skills
When teachers transition out of teaching, they don't always know how their skills will apply outside the classroom. Gomez says the top transferable skills teachers have include communication and listening skills, ability to problem-solve and lead, along with the ability to distill complex information into bite-sized pieces for teaching colleagues or customers. "It makes them a powerhouse at the company," Gomez says.
Glaubinger adds that teachers are dedicated to their work and are great at thinking on their feet, multitasking, organizing and project managing. "Private companies would be crazy to pass up a former teacher," she says. "You will not find a more organized human being in the world than a teacher."
There are a few simple strategies private sector business leaders can take to set former teachers up for success and retain them. Gomez says organizations should have strong onboarding programs, and managers should check in with former teachers regularly. There should be clear paths for former teachers to continue to learn and organizations to help to fill in any knowledge gaps. Managers should also have open lines of communication and give positive feedback when seeing new workers/former teachers doing well.
"They're coming in with a lot of imposter syndrome" and three years of trauma around thinking they're not good enough, Gomez says. She often hears from former teachers who are now in the private sector, who reach out to say they now feel respected and people trust their work. "It's something that they've never felt before," Gomez says.