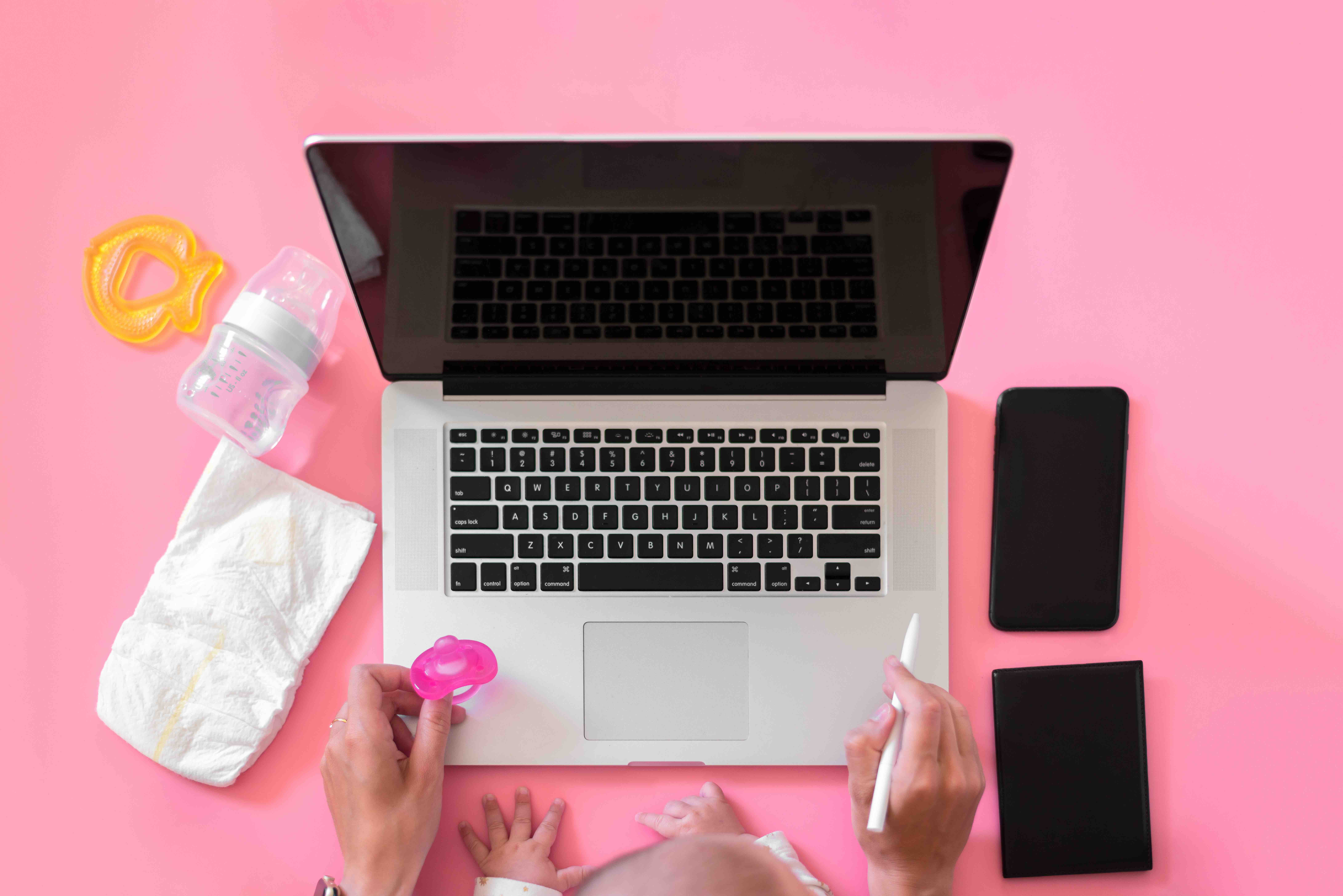 Where have all the women gone? Finding equilibrium between board room and romper room
Studies show caregiving falls on the shoulders of women in our society. Creating more avenues and infrastructure within our workplaces and society for caregivers will go a long way toward more sustainable workplaces for women.
September 16, 2021
This is the second in a five-part series, published in partnership with Businessolver, outlining the national employment crisis facing U.S. women and strategic recommendations for employers to implement or enhance specific programs and policies to recruit and retain women.

The first article explained that women—and particularly women of color—have faced an uphill battle for equity since women broke into the workforce at scale during World War II. The COVID-19 pandemic upset the delicate balance that women had been holding and led to a massive employment exodus that Vice President Kamala Harris called "a national emergency."
In part two, we'll look at the complex issue of caregiving, dependent care affordability and availability and how employers can support caregivers in the workplace.
"Child care is an invisible part of the economy." —Ellen Galinsky, chief science officer, Bezos Foundation and author of "Mind in the Making: The Seven Essential Life Skills Every Child Needs"
A 2019 study by Ready Nation found of the 14 million parents with children under age three in the U.S., 78 percent—or 11 million—are working parents.
It may seem like the most obvious issue, but we have to address the stuffed toy elephant in the room: Dependent care challenges throughout the pandemic have been tough for families— especially given the swiftness and suddenness with which schools and child care facilities closed in 2020 only to reopen with varying capacity and health restrictions.
Parents, particularly mothers, found themselves struggling to work productively while simultaneously caring for and educating their children. And while the pandemic accelerated and made it more acute, it's important to remember: There was a dependent care crisis before March 2020, the fallout of which mainly affected women.
Many Americans lack access to local, quality child care options. The Center for American Progress found in 2018 about half of American families with young children live in a "child care desert," an area with a high density of families with young children, but few or no available child care options within a 20-minute drive.
As might be expected, it's harder for lower-income communities and families, who may have access to government subsidies for child care, but no available or affordable options nearby.
Child care costs consume a large share of women's earnings, who continue to earn less than men. Pre-pandemic, many women were simply working to afford their child care bill. About 55 percent of families report spending at least $10,000 a year on child care, per Care.com. Multiply that times the two children in the average American family, and—after calculating for the gender pay gap—it stopped making economic sense for many women to work outside the home. Some women who found themselves at home due to layoffs may simply stay put if they have a partner who can earn income for the family.
Women also bear the biggest caregiving load. Regardless of how far we think we've come as a society, decades-old gender expectations are still prevalent. The McKinsey and Company analysis, "Women in the Workplace 2020," reveals a deep disconnect on the division of household duties, showing the difficulty in breaking antiquated gender roles.
More than 70 percent of fathers think they are splitting household labor equally with their partner (during COVID-19) but only 44 percent of mothers report an even split.
According to the Bureau of Labor Statistics, mothers are more than three times as likely as fathers to be responsible for most of the housework and caregiving. And they're 1.5 times more likely than fathers to be spending an extra three or more hours a day on housework and child care— equivalent to 20 hours a week, or half a full-time job.
Mothers are more likely than fathers to spend an extra three or more hours a day on housework and child care— equivalent to 20 hours a week, or half a full-time job.
Now that COVID-19 has limited care center capacity, disrupted continuous operations and resulted in care provider furloughs or layoffs, the caregiving dilemma is even more dire. The child care industry—itself fueled primarily by women—was hit hard and has yet to recover, along with other female-dominated industries such as service and retail that eliminated jobs during the pandemic. Women who kept their jobs during COVID-19 were nonetheless squeezed by lower pay on one side and fewer child care providers on the other.
Based on those factors, it appears it was more than a simple question of "Who makes more?" when families nationwide determined "Who will stay home with the kids?" and "Who will continue in their career?"
The result? The cultural and economic underpinnings of the "she-cession."
Making it work: Dependent care
While the federal government continues to determine how to support child care with bills such as the "Child Care is Infrastructure Act," and local school systems continue to sort out how and when to open, employers can take five key steps to ensure working women have options when it comes to dependent care.
See employees as whole people. Work-life balance isn't just an HR catchphrase—it's a real need. Employers must use empathy to recognize many working women are also caregivers to children, dependents or semi-independent adults or parents.
Conduct a "care census." Track data on employees' caregiving responsibilities. Gathering that data, even anonymously, will give employers a baseline to help shape their strategy.
Connect the dots between care and cost. Understand how caregiving challenges can affect the bottom line. Employers lose $12.7 billion each year due to lost productivity from child care challenges faced by their workforce. Caregiving clearly impacts productivity, absenteeism and attrition. Addressing caregiving needs and costs is a critical part of an effective benefits strategy that will reap clear dividends.
Offer a dependent care flexible spending account (DCFSA). Allowing employees to set aside pre-tax funds for child and elder care can create long-term savings for all involved. Participants can save 20-30 percent on their annual dependent care spend with the pre- tax advantage a DCFSA provides. As child care centers reopen with smaller class sizes and/or increased sanitation procedures, costs will likely rise—and be passed on to parents. DCFSA tax savings can give a leg up to employees paying for care. As part of federal COVID-19 relief, the IRS raised the family maximum election amount to $10,500, so families can now set aside even more tax-free funds to offset child care costs.
Find partners. Are there groups in the community who are already offering quality child care? Parent support groups? Babysitting services? In-home elder care? Instead of recreating the wheel, see if there are partnering or referral opportunities or negotiate discount programs for child care, camps, after-school or elder care services or consider on-site programs to retain and recruit more working parents.
The following articles in this series will take a deeper dive into how employers can address key challenges to help working women, and the American workforce at large, recover employment levels. Up next: Mental health.
This article is excerpted with permission from Businessolver's white paper, "Where Have All the Women Gone?"