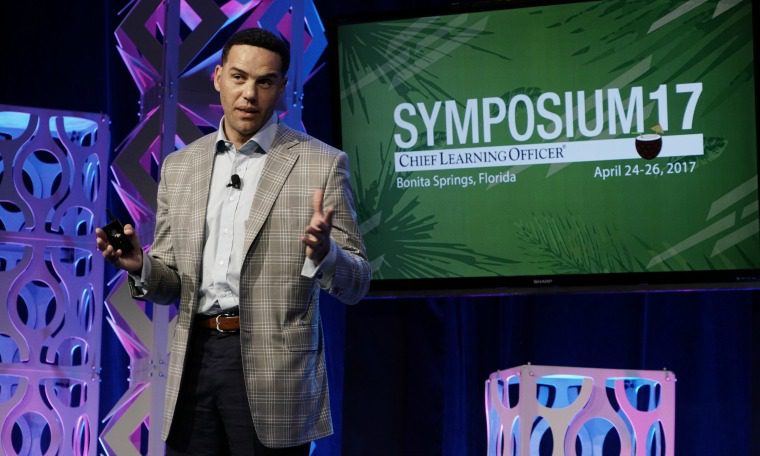 Embrace Learning As a Driver for Change, Inclusion
Stop, look and listen. There's a lot to learn at Symposium.
April 25, 2017
The Spring 2017 CLO Symposium officially began on Monday in Bonita Springs, Florida. I've been to a lot of these events, and I'm biased — I work for Chief Learning Officer after all — but the sense of family is always palpable. It's the mark of a good conference, I think.
Professionals attend so many events throughout the course of a career, and if you stick with one industry you may attend the same ones over and over again. But the really good conferences? They feel comfortable. They teach, you learn, and you feel at home, while you're away from home.
There are always new people at the Symposium, but you see familiar faces at each event. The learning community is small, it's intimate and it's collaborative, and that's part of the reason it works so well and has so much impact on business. But enough with the feel goods. If I was editing this I'd be rolling my eyes right now.
Some of the highlights so far include the LearningElite Gala, which happened this past Sunday. We honored more than 60 global companies with awards of bronze, silver and gold, but Defense Acquisition University walked away with the top honor. The energy as the dinner progressed built like a wave, as the winners collected their awards. The tension grew — in a good way — as the list gets smaller and smaller and you get closer to that top 10, top five, and top finally spot.
On Monday, Steve Pemberton, global chief diversity officer for Walgreens Boots Alliance, talked about the connection between diversity and inclusion and learning. He said he works with the learning function daily because learning is a key driver for inclusion. It helps to sustain diversity work and keep those conversations front and center. Learning is essentially a bridge between diversity and innovation.
He also said learning leaders should be wary of best practices, which is a bit of a sacred cow in the development community. But best practices are by and large one company trying to emulate what another one is doing. Instead, Pemberton said companies should focus on next practices. Ask questions, embrace challenges and different points of view, promote inclusive thinking and that next right direction or path for your business is more likely to emerge.
I'm a journalist at heart. I believe in observation as a light, investigative tool. I spend a lot of time listening to attendees' conversations in between #CLOsym tweets. As I write this I heard one attendee tell another: When you come to conferences you often feel like you haven't done enough. Then you listen to others and think, I'm not in such a bad place.
That's good stuff. People should share their challenges as well as their successes. Then we can all learn together.
Kellye Whitney is associate editorial director for Chief Learning Officer. Comment below or email editor@CLOmedia.com.