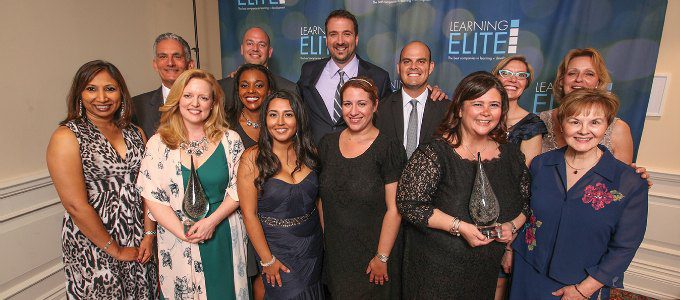 Development: The Cure for Turnover at Vi
To battle high attrition rates, Vi offers employees the chance to better themselves and grow within the company to achieve personal and corporate success.
June 1, 2015
Back row, from left: Vi's Cary Maslow, vice president of operations; Josh Rogers, LMS consultant; Greg Sieman, vice president of marketing; Erin Miller, vice president of sales; and Karen Burns; director of nursing. Front row, from left: Candace Doon, HR generalist; Jill Denman, associate vice presdient of learning and OD; Danielle Kerry, senior director of HR and ER; Davinia Morris, director of HR; Rebecca Zwilling, director of HR; Judy Whitcomb, senior vice president of HR and learning & OD; and Jill Rogers, vice president of resident care.
Managing a senior living facility is hands on work. Front-line staff including nurses, housekeeping and food and beverage employees interact with residents 24 hours a day. The pressure of being in constant demand typically leads to high attrition rates, which are detrimental to both the residents' experience and a company's bottom line.
To provide a unique and satisfactory resident living experience, Vi, a nationaldeveloper, owner and manager of high-end retirement communities across the United States, created a comprehensive learning and development strategy that not only prepares employees to perform in their current jobs, but also it helps them to advance within the company.
When Vi first developed its learning program, the focus was primarily on training sales staff and executive chefs, said Judy Whitcomb, senior vice president of HR and learning and operational development at Vi. When she joined the company, she realized that to cut costs and keep employees happy, development opportunities had to be available to all staff.
"We had to look at it from a sandwich perspective," she said. "We had to hit top and bottom if we wanted to create change."
Achieving this goal required combining business and learning strategies, having Whitcomb report directly to the president of the company and serve on the executive management team. She helps to set organizational priorities and annual objectives that represent learning needs for all of the company's functional and organizational groups.
From there, Vi's Learning Council — functional leaders and subject-matter experts who reside in sales and marketing, housekeeping, food and beverage, IT and finance — contributes content for course development.
The result of these efforts includes a new memory program aimed at identifying and interviewing industry experts in dementia and memory care, as well as an enculturation program to support employees who speak English as a second language called, "Tell Me More," a partnership with Rosetta Stone.
These efforts have driven resident satisfaction to 93 percent in 2014 from 82.6 percent in 2010.
Aside from resident satisfaction, one of Vi's biggest challenges is employee engagement and retention. In the senior living industry, attrition rates can be up to 75 percent. Vi addressed this by creating opportunities for its employees to develop and move vertically through the company.
For instance, a one-year nurse leadership development program instills employees with the skills necessary to move to assistant director of nursing from certified nursing assistant. Providing opportunities such as this has decreased turnover in nurse leadership to 10 percent from 75 percent in less than three years.
Flexibility has been key to provide these learning opportunities for employees. Instead of focusing solely on the classroom experience, Vi makes learning available through webinars and short videos as well. But providing multiple learning outlets is not enough. For a learning program to be successful, employees have to want to participate, and garnering employee support for learning is something Vi excels at.
"I believe our commitment is shown through our employee success stories," Whitcomb said. "We rely heavily on marketing and leveraging video to bring to life the stories of our employees who are impacted by the learning and development program."
Each month, one-third to half of the company's corporate newsletter is dedicated to sharing these learning-centered employee stories. Doing so energizes the program and shows employees that participating in learning is worth the effort personally and professionally.
The results have been measurable. The attrition rate at Vi was 27 percent in 2010, which is low by industry standards. Since the story-sharing program was implemented, that number has dropped to 20 percent and is holding steady.
Even though Vi seems to have found a recipe for success, the company is in no way looking to settle. "At face value, you'd say we don't have to do anything differently," Whitcomb said. "It's no longer about trying to create the best and biggest program. The focus now is on getting more granular and refining what we're already doing to be more efficientand relevant."
Related Articles
Webinars