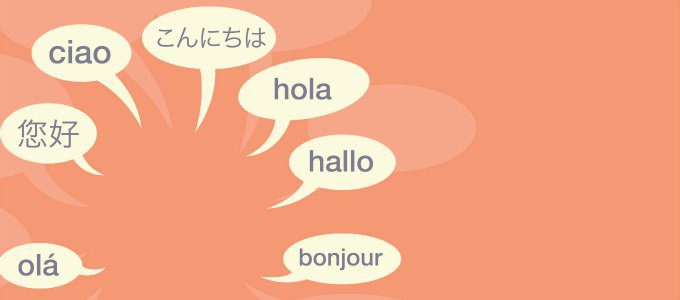 Learning in Translation
Learning another language isn't easy. CLOs can help employees succeed by offering the right flexibility, support and resources.
May 11, 2015
China is the next big market. No, it's Brazil. Actually, forget everything and focus on Germany; that's where business is going to boom.
For learning leaders facing globalization — which is many of them — trying to deliver the right language program at the right time can be a nightmare. Every year brings a new forecast for the next hot locale, and even for companies with a lingua franca — or a single declared language that the entire company uses — knowing how to speak with potential clients and partners abroad is imperative and difficult.
"Americans are famously, or infamously perhaps, not very capable with languages," said Michael Quinlan, CEO of Transparent Language Inc., a learning development firm. "It's not a moral failing. It's demographic and geographic. You can live your life very happily with just English, and that's a problem for us."
Unlike businesses in more linguistically diverse areas like Europe or Asia, American companies often can't hire someone fluent in two or three languages. Instead, they have to develop their workforce to meet the language requirements for the rest of the world's economy — or at least their target customers and partners.
Fortunately for Americans, English is still the most common language used for business. In 2011, Bloomberg Rankings listed Mandarin Chinese, French and Arabic as the three that follow. The report raised eyebrows for its exclusion of Spanish, which is almost as vital as English to businesses operating solely on American soil; U.S. Census Bureau data from 2011 show 13 percent of the population speaks Spanish at home.
Hire to Cover the Skills Gap

In October 2013, Patient Protection and Affordable Care Act implementer Covered California began taking calls from people looking to sign up for health insurance. But it wasn't prepared to work with the state's multilingual population.

Speaking the same language as a caller is more than a courtesy — it's a necessity. The state's Department of Health Care Services identifies 13 "threshold languages" — such as Tagalog, Cantonese and Hmong — that are spoken at higher rates and can hinder access for those seeking services. Part of Covered California's mission hinges on its representatives' ability to successfully communicate complicated health insurance plans in these 13 languages.

Public Information Officer Roy Kennedy said because the organization was still building it staff in the first month of operations, it had to rely on an interpreter service to supplement the non-English calls representatives couldn't handle.

But customers weren't going to slow down just so Covered California could deploy language learning programs. To streamline operations and meet its goal to handle calls in 13-plus languages, Covered California changed its hiring practices.

In March 2014, the service center had 103 multi-lingual representatives who could answer calls, Kennedy said. By the end of the year, it had 219. Those hired who pass a non-English language test receive an additional $100 each month.

In addition to hiring bilingual staff, Covered California partnered with trusted organizations in communities where English isn't the primary language.

"Having those partners in the communities where they're already established was and still is an extremely important part of our enrollment efforts," Kennedy said. "Within our ranks … there are literally thousands who speak a language other than English." — Kate Everson
Language learning companies like Berlitz and Rosetta Stone Inc. report that English is still the most requested language around the world. But as much as Mandarin and Arabic have been touted as big for business, American customers request Spanish, German and French more often.
Judy Verses, president of global enterprise and education for Rosetta Stone, said corporate clients have started to want more Mandarin programs. She predicted that even though Mandarin is not yet in the top 10 languages the company teaches, it soon will be. Portuguese also has seen an increase in interest thanks to Brazil's expanding economy.
Rosetta Stone conducted research in 2013 that showed 7 out of 10 business leaders plan to expand into non-English-speaking markets. But research completed by the Human Capital Media Advisory Group — commissioned by Rosetta Stone — showed only 3 out of 10 are investing in language skills training for their employees.
Having a multilingual workforce is sometimes a must-have rather than a nice-to-have. To make sure employees — and by extension, an organization — get the full benefits of language skill development, learning leaders have to ensure programs offer the right platforms and support.
Parlez-vous Flexibility?
It's often said that the older a person is, the harder it is to learn a new language. Marty Abbott, executive director of the American Council on the Teaching of Foreign Languages, said that age doesn't hinder people's ability to succeed, but it does change the way they have to learn.
For example, younger children exposed to language education can develop the right sounds, such as a rolling "r" in Spanish, before puberty shuts down the part of their brain that learns to make new sounds. Adults have to work around this.
But one advantage older learners have is their efficiency, Abbott said. "They can bump a new language against their native language with the ability to analyze differences."
Language education has traditionally been one of the hardest things to deliver to employees; it requires more money, time and dedication than most other learning initiatives. As technology and accessibility change, however, it's easier to deploy programs that employees can access inside or outside the office.
"Language learning is changing the same way that people had maps for thousands of years and now have GPS on their phones," Quinlan said. "It's all going to flip over in this decade and the next decade."
One of Transparent Language's government clients used to fly employees back to the U.S. and pay for their room and board while they went through a six-week course. Now the organization uses a virtual program that allows employees to stay in the countries where they're assigned and complete four hours of class work over 12 weeks. Quinlan said annual proficiency tests have shown the same or better results since the transition.
Combining independent work with group interaction seems to be the best option for learners who can't be immersed in a new language for hours each day. Anne-Marie Salmon, director of operations for Berlitz U.S., said face-to-face instruction can be supplemented with virtual online coursework and mobile apps to give employees the ability to work on their skills anywhere, anytime they have a chance.
"If you have a long gap in between classes, that's when you forget," Salmon said. "You really have to keep that momentum, and that's where it's good to have that flexibility to be able to use multiple platforms."
Language learning needs the same flexibility that most other professional development programs require to be successful. The difference is learning leaders need to understand the amount of time needed, Salmon said.
Terms of Engagement
Flexibility in delivery helps stymie disengagement — one of language learning's greatest enemies. But giving employees learning tools isn't enough. Chief learning officers also must ensure they have the right content and support to keep them from getting bored or frustrated.
Rosetta Stone's Verses said learner proficiency should be one of the first things CLOs consider when delivering language programs. Those who have some background in a language will be bored with beginner lessons, and those who have no knowledge will be intimidated if a program starts too specific or advanced. "It's the Goldilocks principle," Verses said. "It can't be too hot or too cold."
The content itself also holds keys to how learners latch onto languages — if employees are exposed to vocabulary and phrases that apply to their jobs, it's more likely they'll succeed.
Quinlan works with Operation Smile, a nonprofit group that performs surgery for children with cleft palates in impoverished countries, to help doctors and nurses communicate with their patients. "You would think, 'We're going to go to this country and do that, so we don't have time to learn the language,' but you can learn how to say, 'This will only hurt for a second,' and 'Don't worry,' " he said. "You can learn that kind of stuff really quickly, and it makes a huge difference for you to say it rather than an interpreter."
Sometimes a few comforting phrases won't cut it. The 2011 tsunami and subsequent nuclear meltdown in Fukushima, Japan, required members of the U.S. military to know Japanese vocabulary related to medical and nuclear science.
Most companies don't face life-endangerment to promote language learning, but that doesn't mean they can't impress the importance of skill building on their employees. Verses said accountability can be one of the most stalwart motivators — a necessity if language learning isn't going to get lost in the shuffle of everyday life.
CLOs can motivate employees by articulating where language learning fits into an organization's overall mission. Simply acknowledging their accomplishments verbally also can help, but some companies offer raises or bonuses.
But "you can't just buy access to a language for 100 people and expect that they'll do it," said Chuck McGonagle, senior vice president and general manager for Transparent Languages. "You have to monitor what they're doing, be prodding and encouraging."
Speaking of support, most of learning a language revolves around communicating with others, and Verses said learning leaders and managers can facilitate workplace clubs and mentorships that match language learners with native speakers who can help coach on pronunciation, accent and inflection. Coordinating that connection shows learners the organization is invested in their growth.
Culture Speaks Louder than Words
Being able to communicate in another language means more than knowing grammar and vocabulary. In many cases, knowledge of the culture trumps language fluency.
"You may be able to speak the language, but if you don't understand how the message should be conveyed, it can lead to gaps and misunderstandings," Berlitz's Salmon said.
Salmon experienced this personally in 1991 when she moved to the U.S. from the United Kingdom. She believed that because she was a native English speaker, moving to another English-speaking country wouldn't be a problem. Instead, it turned out to be more difficultthan her move from the U.S. to Mexico in 2010. "Everybody would invite me for lunch," she said. "I thought 'I'm never going to have time to have lunch with all these people.' And then it never actually happened."
"Have lunch" was an actual invitation to U.K.-raised Salmon rather than a nicety in America. She said that experience got her interested in cross-cultural education programs.
In one program, Salmon worked with Japanese employees who were competent in English but didn't have the cultural knowledge to do business in the U.S. In Japan, people wait their turn to speak, so whenever one of these employees went to the U.S. or U.K., they sat silently through meetings. To the rest of the people at the table, they appeared disengaged or confused.
One way Salmon helps clients gauge their cultural expertise is through a platform called the Cultural Navigator, which includes a Cultural Orientation Indicator. Participants take an assessment to see how their business behavior compares with other countries' workforce functions. Knowing how the two vary makes learners more conscious of how to modify their behavior to succeed in a different business arena.
Opening Doors and Closing Deals
Beyond opening doors to new markets, language education also affects the bottom line.
In preparation for its 2015 language awareness campaign "Lead With Language," American Council on the Teaching of Foreign Languages found the highest challenge for small to medium enterprises looking to go global was an inability to communicate with non-English-speaking companies. Abbott said in one case, a farmer in Iowa was having a difficult time selling goods in Mexico because he didn't employ anyone who spoke Spanish.
A company expanding its business to another country also can use language skills to bring cultural sensitivity into the boardroom, Verses said.
Even noninternational companies can benefit from cultural and lingual learning. The Aspen (Colorado) Ski Co., serves skiers from multiple countries, which means the staff has to communicate with them quickly in case of an emergency on the slopes.
Regardless which language is learned, companies usually see a rise in engagement. In a 2014 Rosetta Stone study, employees who were offered language education felt their employers were interested in their development — which turns into productivity (Figure 1).
"It has hard impact and soft impact," Verses said. "And I've found that soft impact always translates into hard impact."