"To enable talented people to change the world" – it is a mission statement of SoftServe, a global tech company specializing in software development and digital advisory. Our people understand that the "enable" part of the statement promises a strong commitment to consistently invest in their education, training, development and growth. It's also a commitment to an exceptional employee experience.
We recognize the importance of authentic employee experiences and the impact they have on engagement, retention and company-wide performance. We define an authentic employee experience as an environment where the employee feels respected, supported and valued. The only way to achieve this is by considering each piece that makes up employees' lives and appreciating that these pieces are not the same for everyone.
In 2022, our people experience team asked themselves one important question: "How do we consistently and sustainably maintain our high NPS and eNPS scores for almost 14,000 associates, in 47 offices, across 14 different global locations?" With both metrics in the 80s over the last couple of years, it felt like we were doing something right. We wanted to learn more.
With our rapidly globally expanding organization and a commitment to enhancing our overall listening strategy, we sought to gain a comprehensive understanding of our employees' experiences. By leveraging surveys, including the Annual Employee Survey with Peakon, we identified specific drivers that hold greater significance at SoftServe. We wanted to validate these findings, uncover hidden insights and allocate resources effectively to areas of high impact.
That's when we decided to launch a project to better understand what was unique about being a SoftServe employee and develop a common view of what it means to have an authentic experience as a SoftServian.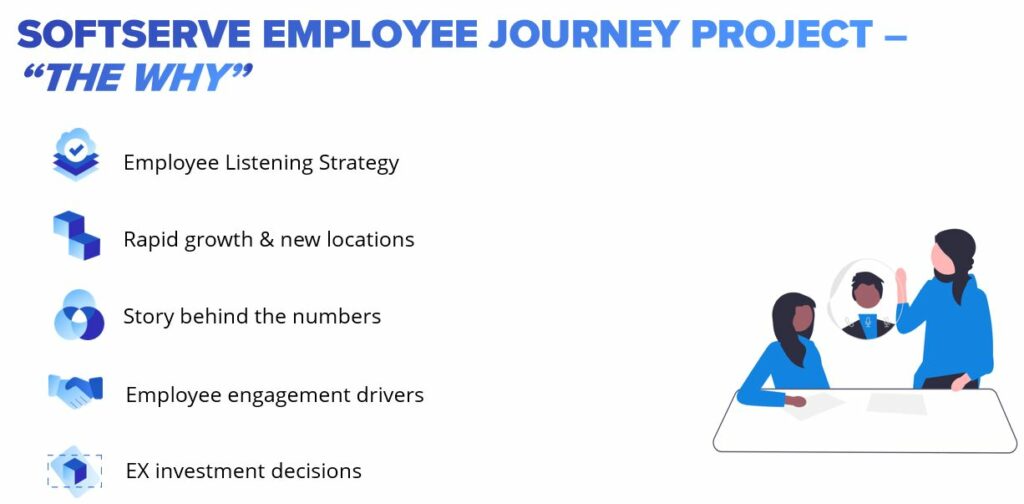 Our decision to undertake the employee journey project stemmed from a combination of factors. While conducting surveys throughout the employee lifecycle, including onboarding annual performance assessments, and learning and development programs, we noticed intriguing patterns. Some employees rated us highly but offered constructive feedback in their comments. We aimed to explore the underlying reasons behind such trends and better comprehend the dynamics influencing employee experiences. Furthermore, our focus on organizational fit and accomplishment, as revealed in the Annual Employee Survey, prompted us to validate and gain further insights into these crucial drivers.
Choosing employee journey mapping
The realization that employee journey mapping was the appropriate tool for our endeavor came through a separate chain of events. At SoftServe, we prioritize continuous learning and development and provide various opportunities to learn by organizing internal knowledge sharing sessions. One day, the people experience team attended a knowledge sharing sessions led by the experience design team. During the session, the experience design colleagues had shared about a successful project centered on customer experience journey mapping for one of their UK-based financial industry clients.
The challenges faced by the client in leveraging customer data and integrating unstructured information resonated with us. It became evident we should replicate a similar analysis for our employees.
Methodology and insights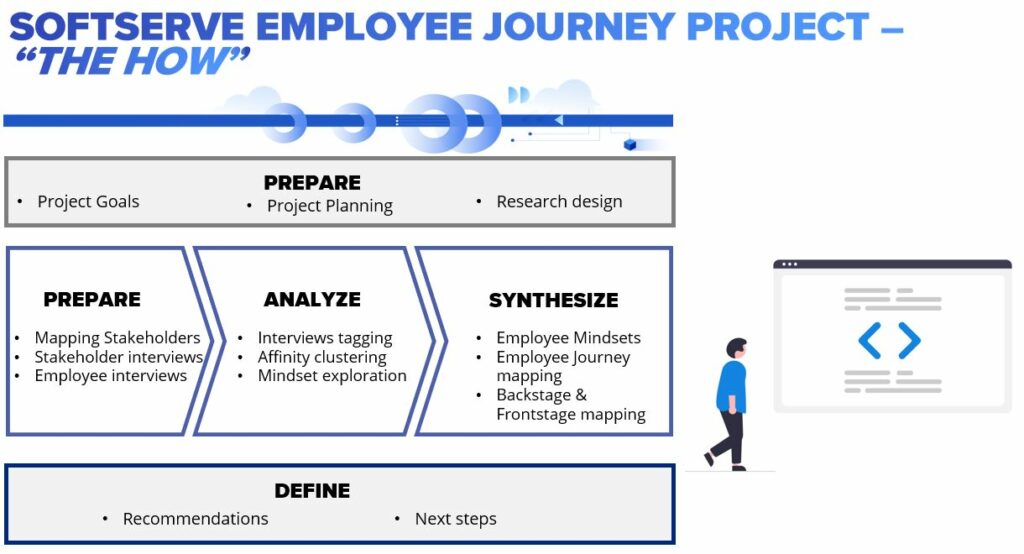 Embarking on this new undertaking — the SoftServe employee journey project — the people experience team knew that to understand employees and their SoftServe journeys, we needed to apply design thinking methodology and techniques. We invited our experience design colleagues to collaborate on this HR initiative, working with a design thinking methodology.
Through employee interviews, innovation workshops, journey mapping and persona creation, our cross-functional team gathered strong and compelling evidence of the "as-is" experience for SoftServe associates. This included existing pain points, needs and mindsets.
Additionally, we identified and explored the top five moments that matter to our employees, ranging from initial interactions with colleagues to unique SoftServe-specific experiences.
Utilizing the findings
The data unearthed through the employee journey project has been instrumental in driving various initiatives and projects within our company. One of the biggest advantages of this study was that it provided our people experience team with a foundational asset that we have been leveraging for various people initiatives and programs globally.
For example, we've provided our findings to the project team that works on improving the integration of diversity, equity and inclusion into each employee's journey. We've also leveraged employee personas to shape cultural initiatives and projects around our digital employee journey.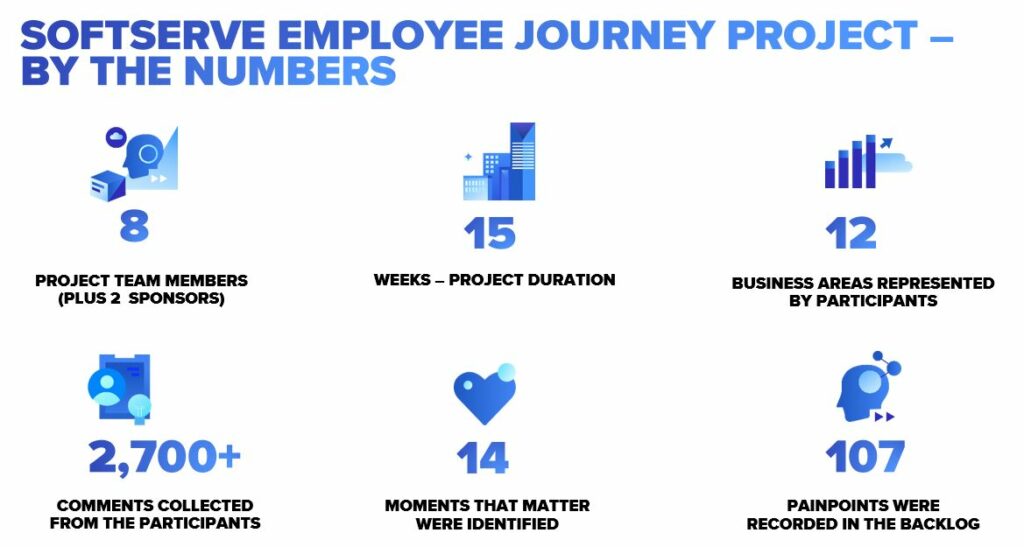 The employee journey project at SoftServe has been a valuable endeavor in our pursuit of enhancing the overall employee experience. By gaining a comprehensive understanding of our employees' journeys, we can allocate resources effectively, address pain points and amplify moments that matter. This ongoing commitment to listening, learning and adapting enables us to shape a cohesive and fulfilling corporate culture as we continue to grow and thrive. These efforts have one common goal — to enable our engaged, productive and talented employees to change the world.
Disclaimer: The views and opinions expressed in this article are solely those of the author and do not necessarily reflect the official policies or positions of SoftServe.