When technology systems are being deployed that disrupt the way people work, resistance is a natural phenomenon that can have a negative impact on the success of a project. To get the maximum benefits from your technology implementation, it is critical that resistance is discovered, understood and managed appropriately. This is where a "resistance management plan" comes into play.
Resistance to change means that individuals that are affected by a particular technology, or any change initiative, are opposed to the project for any number of reasons. That opposition can manifest itself in two forms: "active" and "passive" resistance. The graphic below represents each type of resistance.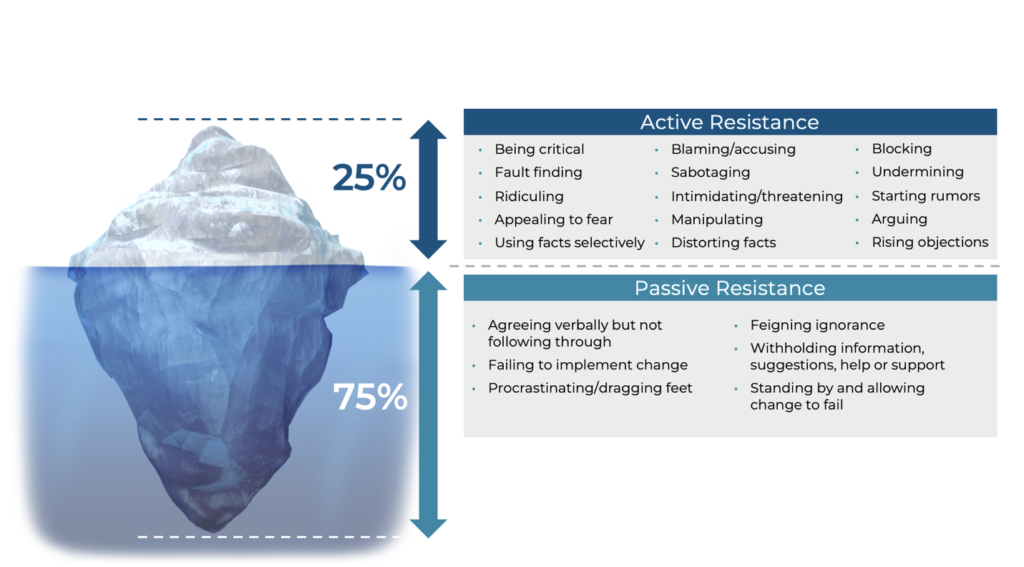 Active resistance is noticeably evident in people's behavior. They are openly showing their opposition to a change. They are adamant the change will not work and/or it shouldn't apply to them or their department. This may sound extreme, but it does happen. However, a solid resistance management plan will address this type of resistance, and what I refer to as the most dangerous type of opposition: passive resistance.
Passive resistance is not as noticeable as active resistance. Sometimes, individuals affected by change will resist in a covert, almost stealthy manner. This type of behavior can put a project at risk due to a lack of transparency and hidden agendas. It is important for change practitioners to work with executive leadership, executive sponsors and project team leaders to ensure they understand that passive resistance needs to be dealt with in the same manner as active resistance. The resistance management plan must be comprehensive, with tactical action steps that need to occur when resistance arises.
Why people resist change
According to OCM Solutions, an organization that specializes in resistance management tools, the following items are sources and causes of change resistance within organizations.
Hesitancy to change the current way of working.
Creators of the current processes reluctant to see their work altered.
Opposing viewpoints on the adopted solution.
Lack of awareness for the change.
The expectation of more work.
Fear of job loss.
A lack of support or visibility from the organization's leaders.
A perceived negative history of change within the organization.
The expectation that management won't follow through on the change.
Concerns over user bandwidth.
Peer pressure to oppose the change.
Customers fear adopting the change will be too much work.
Customers expect pricing to go up.
Vendors worry changes will negatively impact their business.
Fatigue brought on by the perception of constant change.
The best way to get to the root cause of change resistance and build an effective plan is to conduct an assessment as a part of your organizational change management plan. This assessment is conducted early in the project lifecycle so pockets of resistance can be uncovered and dealt with proactively versus reactively. Proactively understanding who the key influencers are, and what positions they hold within your organization, will help shape the resistance plan for how to deal with the different types of resistance. There may be informal leaders that are viewed as an influencer without holding an official title of management. So, it is important to know who those individuals are, and understand if they are or are not advocates of the change.
With this knowledge, change practitioners should create a resistance management plan to mitigate any negative behaviors before or as they arise by:
Looking for resistance to the change early and often.
Identifying areas of possible resistance through observations or surveys.
Identifying potential resistance behaviors, both passive and active.
Communicating frequently and allowing employees to express their thoughts and feelings about the change.
Involving employees before, during and after the implementation.
Building a coalition of change champions embedded within the affected departments and/or business units to act as liaisons and help mitigate resistance.
Hopefully, we have all concluded that resistance to change can be detrimental to a technology project's success. If unmanaged, resistance can cause project delays, cost overruns, lack of productivity, poor morale, unobtained business benefits, and in the worst case, a shutdown of a project. However, a tactical resistance management plan is the key to reducing or eliminating these risk factors.