Life is full of relationships, which develop norms and rules for engagement. This holds true in the workplace – with strings attached.
The bonds between employees and employers are evolving fast. Three diverse psychological contracts exist in recent memory: one beloved and lost and the other two competing for dominance when they should, in fact, share the stage. In the current struggle for talent, talent professionals, culture advocates and hiring managers must amend their psychological contracts to embrace the humanity of their talent and upskill their people before it's too late. The risk of not doing so spells further devastation in the war for talent.
Rival contracts
Historically, the rules for engagement – often referred to as a psychological or social contract – were "in exchange for good performance, you will have reliable employment and a pension upon retirement." This contract held true until the lifespan of organizations dwarfed and economics shifted.
Then, a new contract developed. Organizations were humbled. The new contract became "while we cannot guarantee lifelong employment, we promise you during your time here, you will gain marketable skills for your next chapter." This further embedded the need for talent development into organizations' HR strategies. Growth overtook stability. Individuals began to job hop with greater frequency to climb the proverbial ladder. Organizations were forced to demonstrate how talent was growing or risk high attrition.
This contract persisted until cultural shifts precipitated by COVID-19 entered the scene. "People want to know they matter and they want to be treated as people. That's the new talent contract," says HCM thought leader Pamela Stroko. This contract calls organizations to do what HR professionals have been striving to do for decades, namely, make the workplace more human.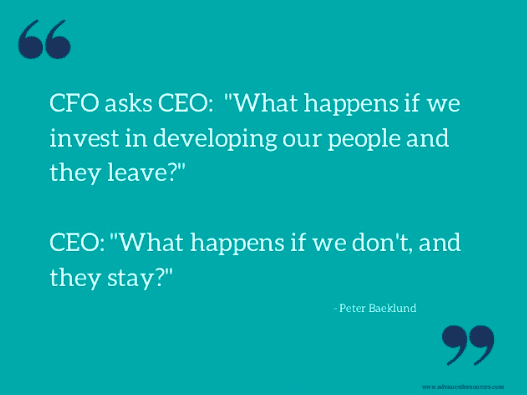 When organizations fully embrace their talent's humanity, flexible work arrangements take precedence, mental health is supported and work-life balance and family commitments are prioritized. However, this contract's spirit goes further, stepping into the realms of emotional intelligence, psychological safety, relationship building and industrial psychology. When talent is treated as human, they can form more human bonds with clients and colleagues. Across the professional sphere, when we forge bonds as human beings, a name, face and personality trump dollar signs and widget counts. Relationships are the future of work.
A time for transformation
For most organizations, the original psychological contract is unattainable. Some still try to woo their talent with apparent security that evaporates when tragedy strikes, as well as money… lots of money.
For those who do not have a money tree, some are at a loss for how to implement a development strategy while others do so in a structurally poor way that feeds the perception that HR is a cost center rather than a value add. Even fewer organizations genuinely offer this contract because they shame or penalize job hoppers while grappling with how to create and communicate career pathways for internal mobility. Organizations must create the roadmap, publish it and welcome people who cross their paths along the journey in order to offer a viable psychological contract.
Unlike past contractual transitions, adopting the near-forced COVID-provoked contract is not mutually exclusive with the former. Both can and should coexist. People want to grow and be recognized as human. The latest contract requires seeing people as fallible, as growing human beings in need of development. If organizations skip to the "human" contract because the past contract proved too difficult or costly, they may be able to attract talent but will struggle to keep it.
Oddly, many leaders need training on how to see their team as fellow living, breathing human beings. The rise in emotional intelligence, psychological safety and cultural diversity trainings underscore this. The latest contract entails a perception shift centered on shared values, whereas the former about development can (1) nourish and nurture talent so they want to stay and (2) level up talent so the organization can do more than doggy paddle in the ever-increasing competitive landscape.
These psychological contracts go hand in hand, and neither is easy to fulfill. Organizations fall short if they embrace one and not the other. Weak contracts of either form risk losing talent and tainting one's perception in the market. Employees hold the bargaining chip to the extent that they vote with their presence in the face of competition.
Risk is present at organizations who break either contract. If economic pressures lead to a reduction or elimination of formal development opportunities (because informal ones are inherent), talent is likely to transfer to an organization who sees development as an imperative and a strategic competitive advantage. Organizations that are reigning in their flexibility, such as return to work initiatives, are seeing talent rebel. Can you blame them? Organizations failed to hold up their end of the bargain, and employees are willing to enter a new contract with someone else.
This perceived "disloyalty" was not felt when the original pension-centered contract was sunset because it was largely generational. Those who had a pension kept it, even if it became frozen, and slowly transitioned to a new contract. Simultaneously, the next generation entered under the new contract, unable to miss the old. The new social contract was phased in, avoiding the chasm employees and organizations are currently facing.
In the current environment, the development and flexibility-driven contracts are implicit even though employees may not articulate them readily. Employees will say that they want to get promoted and make more money. Continually learning new skills is necessary since the half-life of skills is decreasing in the face of technology. Employees want flexibility and respect. If they do not perceive these qualities, they will go in search of them because anchors like a pension and "guaranteed" employment no longer exist.
The psychological contracts of work are evolving. Employees and applicants are reading the fine print of these contracts in the name of transparency. Organizations need to know what exists in their contracts, benchmark the market to weigh trends with organizational strategy, update their contracts accordingly and hold themselves accountable through organizational health surveys and robust HR reporting.