Disruption will continue as we enter the third year of a global pandemic that ignited a workplace revolution. Companies that moved to a remote or hybrid model will continue to work on strengthening their culture, engaging employees and maintaining an overall sense of belonging to keep talent happy, proactively involved and retained.
As a result of this ongoing disruption, workplace well-being has risen to the top of the corporate culture agenda, and it's about time. The average U.S. employee spends half their waking life at work. I'm optimistic, as things seem to be changing in the right direction: 71 percent of employees feel that their employer is more concerned about mental health than they were before; 81 percent believe the way an employer approaches mental health will be a primary consideration when they look for work in the future.
Company culture starts at the top; it stems from what leaders are doing and what others observe about them. Those who show up consistently with a positive attitude or neutral disposition come across as accessible and help others feel at ease, establishing a culture where everyone feels like a valued contributor to the business.
Beyond the executive suite, building a positive work culture is focused on community building – offering opportunities to connect and encouraging employees to do so inside and outside of "the office" wherever people are situated. That's where a company retreat can be instrumental in providing the time and space for relationships to develop and flourish. This has become an annual tradition at Inspirant Group and there are myriad benefits that last long after the retreat.
Today's company retreat has been reimagined as human centric, focused on raising employee morale and making everyone feel connected and motivated. Gone are the days of the exhausting company retreat or "off-site" where people trudged from session to session as if engaged in a painful chore. Even in organizations with a strong culture, nothing can replace the magic of face-to-face communication where people can form deeper connections.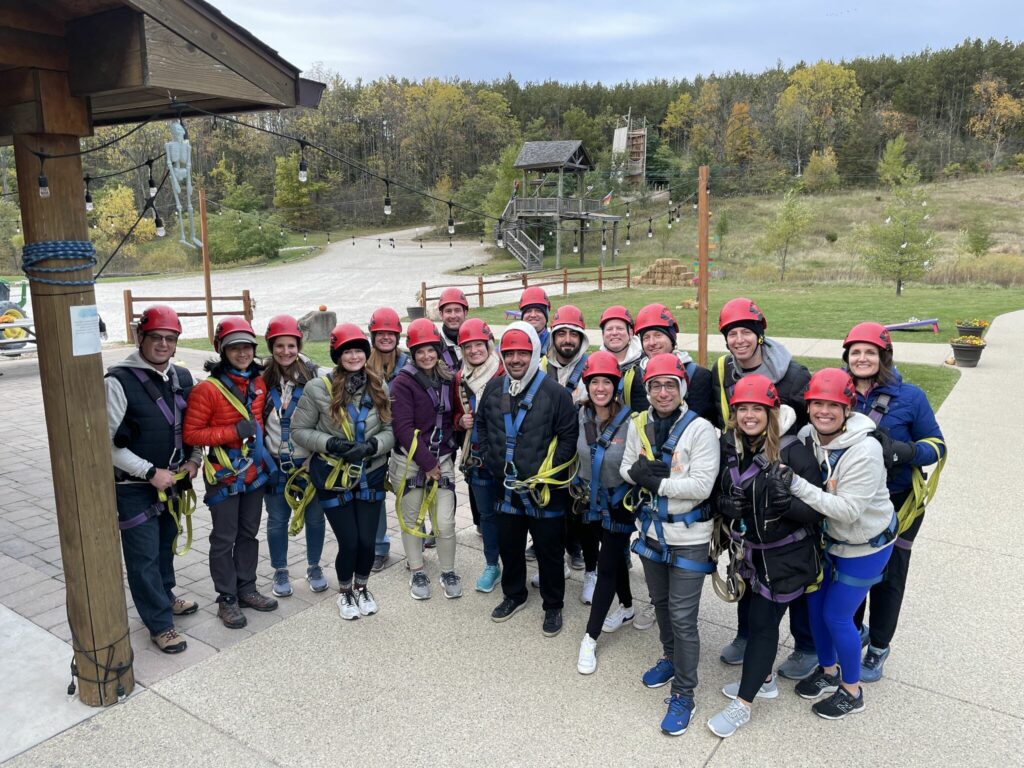 In our recent retreat which brought together most people from our remote company, there were lots of hugs and smiles; it was exciting to see (almost) the entire team – both W2 and 1099-ers in person. One of the benefits of the retreat was that Inspirant Group leaders could express in person their gratitude and appreciation for the team's hard work and dedication over the past few pandemic years. I was struck by the ease with which we all spent time together. My colleagues and I were vulnerable as we shared details of challenges we face. We spent time learning from experts about the benefits of mental health and easily accessible tools to attain true wellness.
The first step is carving out the time so participants get the most benefit. The 50/30/20 formula seems to work well and is divided up as follows: 50 percent free time/relaxation/reflection; 30 percent coordinated fun activities and 20 percent work.
Find a location that's suitable to social interaction, one with enough physical space so participants feel a sense of freedom. A retreat that's outside the space where people work provides team members with a fresh perspective as well as the space and time to reflect on their work and recharge, one of the reasons why a company retreat is so valuable.
Setting the stage with a compelling agenda allows participants to feel at ease, knowing what's expected of them during structured time and allowing them to look forward to personal time. If possible, scheduling time outdoors in nature is beneficial. Say thank you with choices for how they can spend their down time.
Offering a choice between a spa appointment, round of golf, or time exploring the local shops allows employees to show up authentically and do something they enjoy. The Inspirant team incorporated white space and intentional breathing into our days and a better understanding of the amount of "input" we receive each day, both positive and negative.
Although having an off-site retreat has special benefits, it is also possible to create meaningful small moments during the work week to foster connection. We've initiated a buddy system where employees from different departments are matched up for a month. The buddies decide how they want to connect, whether that means taking a walk, scheduling a virtual coffee, playing a game, etc. In small groups, a leader is designated and sends out an invitation to gather. There may not even be a set agenda which instead leads to organic conversation, though there is never pressure to speak. People can choose how they want to participate, whether to speak or simply listen.
There's a heightened sense of connectivity which occurs during a company retreat that doesn't transpire during a typical work week because of a lack of time and space. If resources are available for a retreat, start the planning process by asking team members for their input. What would they like to do or learn? How did they feel during the retreat and were there tangible takeaways? The execution plan should be structured enough so people can take comfort in knowing what to expect, but at the same time allows for flexibility, so individuals can make choices about how to spend their time.