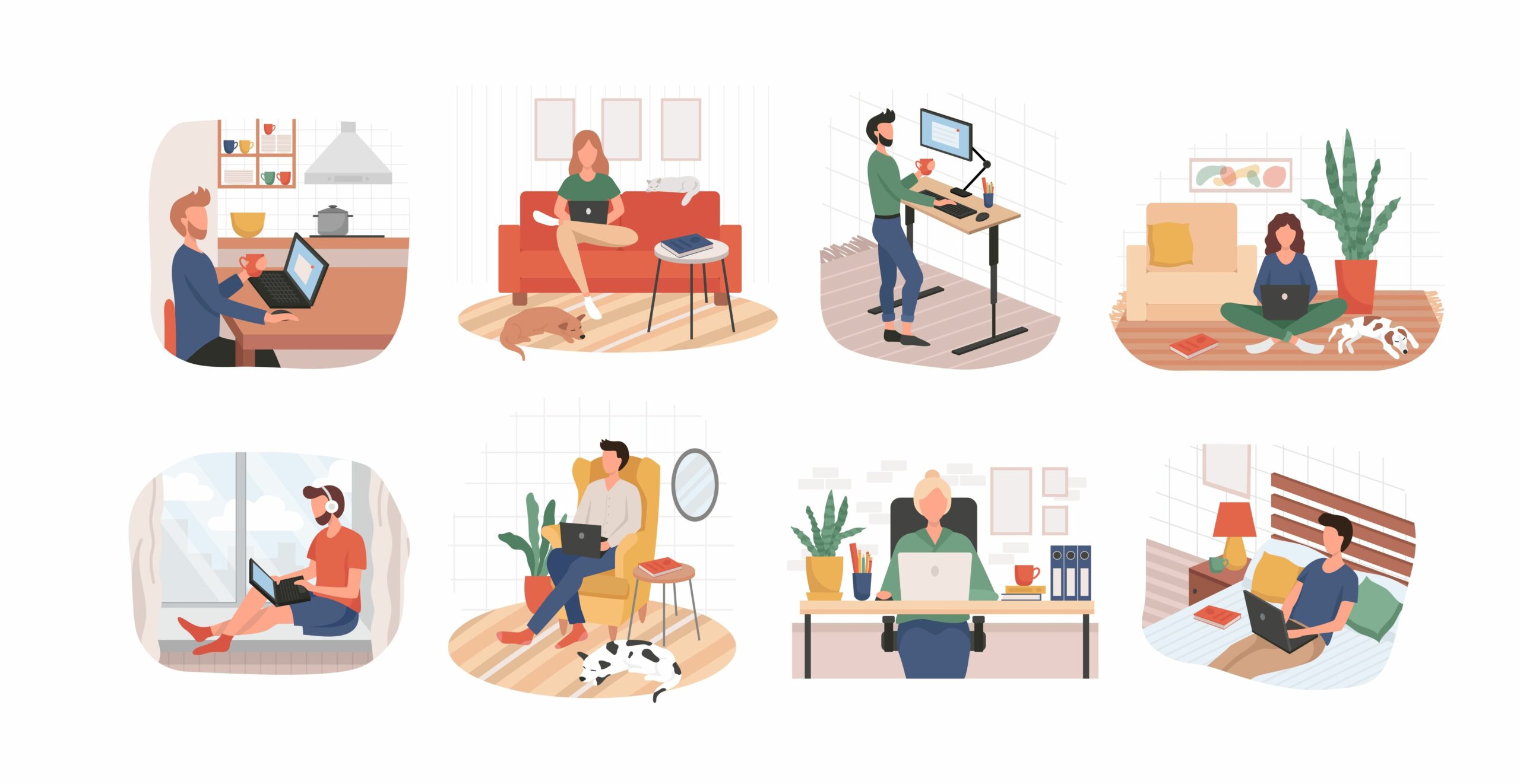 The case for continued remote work into the future
Empowering employees to choose where and when they work can be one of the biggest drivers of a better experience at work, and a key component in retention strategies.
January 25, 2023
Research shows an employee's retention, engagement and productivity are tied to how well their workplace responds to their intrinsic psychological and personal needs. Among these needs are autonomy (sometimes referred to as "agency"), purpose, mastery and belonging.
Autonomy is the need to be able to control what you do, where you do it, when you do it and who you do it with.
Mastery is the desire to get better at something that matters. In areas that are meaningful to you, you constantly seek to improve your skills through learning and practice; because it matters to you, you seek to be as effective as possible in what you do.
Purpose is the belief that you are working toward something larger and more important than yourself and that the work you do is important and worthwhile.
Belonging is the sense of being accepted, respected and included by those around you—being part of a group, a team or an organization that values you as an individual.
Autonomy and belonging are positively impacted when a flexible remote work policy is in place. Whether the individual employee chooses to work remotely, on site or a combination of the two, the ability to make such a decision enhances one's sense of agency.
Communicating that an organization trusts its employee to make an informed decision regarding their workplace accountabilities and routine will foster engagement and productivity. A flexible remote work policy increases an employee's sense of being trusted, respected and valued — their sense of belonging. Out of this feeling, loyalty develops.
Research shows that organizations benefit when employees are offered choices in work location (based on operational needs). Some of the findings that support this conclusion are summarized below.
The case for flexibility
Flexibility helps employees achieve a greater work–life balance, leading to increased employee satisfaction and improved morale. This leads to a reduction in employee turnover and the cost of recruiting and training new hires. Although remote work has been around for a few decades, it moved into the spotlight during the pandemic when many organizations pivoted to that model.
A recent online survey conducted by the Globe and Mail found that most respondents are "unwilling to trade the flexibility of remote working for the opportunity to interact with colleagues and managers in person." According to the survey, almost 60 percent of respondents described themselves as feeling angry or anxious about returning to the office, while only 22 percent said they felt excited.
When asked whether they would consider changing jobs if their employers instituted a mandatory return to office, 60 percent said they would. The main reasons were long commute times and a rigid work schedule. Roughly 84 percent of respondents said that not commuting was a key benefit of working remotely and 79 percent said they valued a flexible workday. Employees expressed with great clarity that the new post-pandemic approach to work—working remotely—was a benefit to them. In fact, research indicates remote work has become one of the most desirable benefits an employer can offer. A look at the outcomes from a wide range of studies shows that two-thirds of people want to work from home. Microsoft's 2021 Work Trend Index found that 73 percent of respondents desire remote work options, and a Cisco Canada study found that 77 percent of employees indicated that flexibility in location and hours will determine whether they stay at a job. The 2022 Global Talent Trends Report had similar findings, with 74 percent of employees saying remote work options would make them less likely to leave their company.
Employees want to maintain the freedom found in flexibility, but it should be noted that the desired flexibility is not found in a hybrid work policy, where workers are mandated to come into the office a set number of days.
Evidence shows that restrictions on workplace autonomy or flexibility in how employees work can increase the risk of burnout. In her book "The Burnout Epidemic," Jennifer Moss argues that in order to prevent employee burnout, employers need to be more flexible around where, when and how employees work, with a focus on results-based goals versus hours or face time.
The Hybrid Ways of Working 2022 Global Report indicates that employees who have full autonomy to choose where and when they work unanimously report a better work experience than employees with limited or low autonomy. When asked how their work arrangements impact various aspects of their work experience, high-autonomy employees report the highest levels of trust in their team, trust in leaders, belonging, motivation, productivity, work–life balance and mental well-being. In some cases, these scores are more than 20 percent higherthan those of their low-autonomy peers.
A recent CAMH staff survey found that 98 percent of employees wanted a continuation of the remote work option. This is in line with a recent study that found 86 percent of employees want either fully remote or remote-first work environments going forward. (Remote-first means operating closely to fully remote with a few exceptions, for example, keeping some office space for employee gatherings.)
Results from the Survey of Working Arrangements and Attitudes (a monthly online survey jointly run by the Universality of Chicago, the Instituto Tecnológico Autónomo de México and the Massachusetts Institute of Technology and Stanford University) found that a flexible work schedule, better financial outcomes such as savings on gas and lunch, and not having to commute were the top three benefits to employees of working from home. These benefits were followed by time saved getting ready for work, more time for quiet reflection, more balanced time with friends/family and fewer meetings.
A joint study carried out with Mental Health America and FlexJobs found that employees without flexible work options are almost twice as likely to report poor or very poor mental health. In addition, LinkedIn reports that flexibility has become a key value proposition for employers.
For employees whose work cannot be done remotely, companies are offering job shares, different shifts, compressed workweeks and other forms of flexible scheduling to make sure onsite employees can also shape work around their personal lives. Options such as four-day weeks, or nine-in-two weeks and staggered shifts, give frontline workers more choice and control over their work.
Employee engagement and job satisfaction
Employee engagement is a measurement of how committed employees are to their company and work. Happier employees are more engaged. When employees are highly engaged and satisfied at work, they are less likely to leave.
Positive levels of engagement also correlate to higher levels of mental and physical well-being. Research showsthat people with comparatively higher levels of well-being have stronger immune systems, reduced cardiovascular mortality, deal with fewer sleep problems, greater self-control, are more self-regulated and cope better, suffer less depression and anxiety, perform better at work, experience more satisfying relationships and are more cooperative.
The 2021 State of Remote Work report found that 84 percent of employees indicated working remotely after the pandemic would make them happier and 82 percent reported working from home is better for their mental health.
In a randomized control study of 1,612 engineers and marketing and finance employees of a large technology firm, half of employees were allowed to work from home and the other half had to work full time in the office. The study found that attrition rates were reduced by 35 percent for employees working at home and they also reported improved work satisfaction.
Retention and the impact on productivity
Employee retention is crucial for organizations as it affects business efficiency, consistent quality and service delivery, employee morale, costs in recruitment and onboarding, reputation and loyalty.
Productivity includes four essential components: (1) one's ability to strategically plan their work; (2) the desire to remain focused on one project or goal at a time; (3) the ability to make choices; and (4) consistency in the work environment. Greater productivity means employees complete more work with less time or effort. Accomplishments can be measured by the quality of the work, the number of tasks finished or the amount of product created.
A significant benefit to employers is that autonomous work arrangements help attract and retain talent and reduce turnover rates. In her study, Jennifer Moss states, "As of 2019, there was enough research, modeling, measuring, dissection from peers, and reproving to show that employee happiness has a causal (versus correlated) link onprofitability."
Productivity rates and the move to remote work during the pandemic show that nearly 94 percent of employers reported that productivity rates had stayed the same or improved since employees had started working remotely. These findings are consistent with the results from CAMH's "Return to New Normal" survey, where 90 percent of employees felt they were able to "very effectively" or "effectively" work remotely. CAMH managers, with direct reports working remotely, found that 84 percent of their employees were able to work "very effectively" or "effectively."
Furthermore, data from the 2021 Statistics Canada Labour Force Survey shows that 90 percent of employees working remotely self-reported that they were as productive or more productive when compared with working in the office.
According to the latest Global Workplace Analytics' report, when asked why they changed jobs, 84 percent of employees said they wanted more flexibility in where they work. Research is demonstrating that work–life balance is taking precedence over other benefits when people are looking for or choosing a new job.
Ninety-five percent of employers say that remote work has had a positive impact on employee retention, and 46 percent of companies that allow remote work say it has reduced attrition.
According to a June 2022 report from the Royal Bank of Canada, the country is experiencing a labor shortage and businesses posted almost 70 percent more job openings in that month than before the pandemic. Even given these circumstances, some employers are mandating that employees return to the office a minimum number of days a week.
Research consistently shows that most employees desire flexible work arrangements. Hiring experts and employment lawyers report that they are beginning to see a growing trend of employees leaving their jobs after their employers required them to return to the workplace. Employees have seen the benefits of remote work, which enables a better work–life balance without negatively affecting their productivity.
Additional benefits to consider
Other benefits of maintaining a flexible remote work policy may include, but are not limited to:
Reduced commuting: A study of more than 5,500 commuters in major cities found that commuting was more stressful than employees' actual jobs and employees carry these additional stress levels into the workplace; reductions in commuting also help to reduce the carbon footprint.
Reduced financial costs of gas, parking and food.
Reduced unscheduled absences: Organizations that implemented a telework program realized a 63 percent reduction in unscheduled absences.
Saved overhead.
Broadened employment: Opportunities for those who might otherwise be left out because of lack of transportation or child care, as well as biases in the workplace toward people based on factors such as disabilities, sexual orientation, gender identity, race, socioeconomic status.
Focused meetings that provide for quicker input and involvement in decision-making.
Challenges of remote work
Unquestionably, there are challenges that remote workers may face and these need to be proactively addressed.
Team members may worry that leaders or colleagues may view them to be unproductive, lazy or slacking off. The solution is to have established results-based goals and objectives to measure accountability.
Employees may feel disconnected from the company culture. To counteract this, organizations could use hybrid meetings as well as planned monthly or quarterly onsite events. Additionally, employees would work onsite as determined by operational need.
Employees who work from home may feel it is harder to unplug at the end of the workday. Organizations should continue to promote a healthy work–life balance.
Leaders may feel they have less of a relationship or rapport with their remote workers. Managers can schedule regular one-on-one meetings with their direct reports and provide direct feedback and input on their work. One study found remote employees who receive regular feedback from their manager were three times more likely to be engaged.
In today's struggle to retain the most talented individuals, employee experience in the workplace must remain a critical focus for leaders. Employees who are provided the opportunity to work in a manner that best suit their needs—whether fully remote, in-person or hybrid—feel respected, engaged and trusted. Consequently, they will be more likely to remain as productive employees. Finally, respect for the autonomy of employees is an integral component for promoting psychological health and safety in the workplace.
Related Articles
Webinars