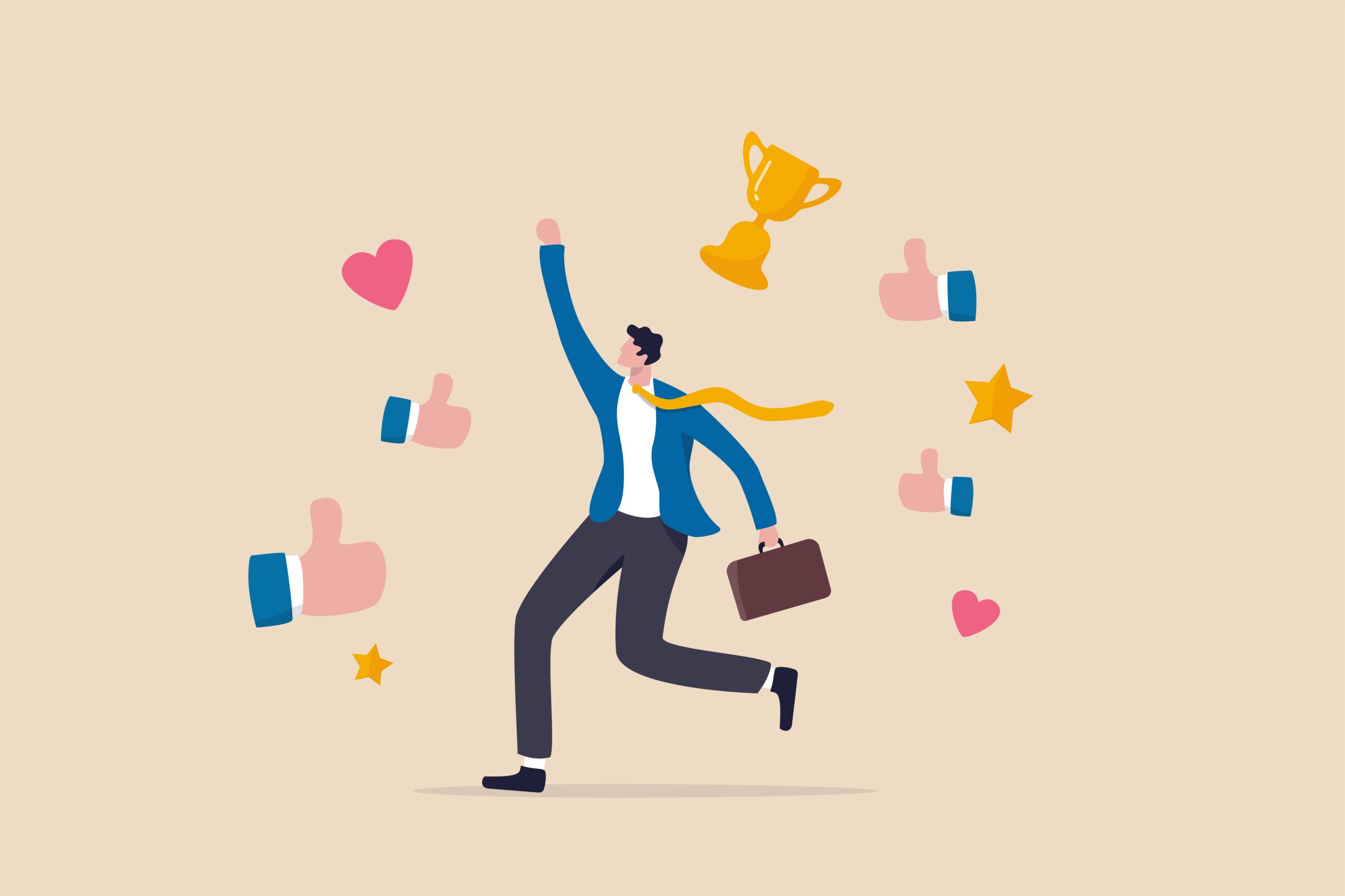 The Great Recognition: Recognizing a job well done reaps greater results
To understand how to support employee and organizational success amid an era of high turnover, Achievers Workforce Institute surveyed nearly 6,000 global employees and HR leaders. Here's what they found.
June 15, 2022
All eyes are on the talent pool and many organizations are in the deep end as they struggle to attract, entice and win over employees in an ever-competitive market. But what about the employees you already have – how are you winning them over?
Companies have approached retention several ways – from gimmicky to grand and everything in between. But at the core, employees want to be heard, seen and recognized. A recent study conducted by Achievers Workforce Institute, found that feeling recognized more positively impacts employee engagement, productivity and advocacy than a fair salary. What's more is that 57 percent of employees say feeling recognized would reduce the likelihood that they would take a call from a headhunter.
As employees reevaluate their roles and how work fits into their lives – versus the other way around – and what they need to feel a deep sense of belonging, HR leaders and executives have their work cut out for them to meet the expectations of a workforce that knows its worth. A good place to start is to look at how your people are celebrated for their achievements and contributions.
The recognition revolution
Leaders want motivated, engaged and high-performing employees, but it's not always clear how to bring out the best in workers. Burnout, boredom and bold demands consume employees and gone are the days where a bonus and incentive programs are enough. Workforce science demonstrates that recognition is proving to be the ultimate tool to combat employee disengagement and turnover. So, as we rethink The Great Resignation, we need to imagine The Great Recognition.
However, understanding the difference between recognition and meaningful recognition can be another big question mark for companies. More than half (64 percent) of employees claimed they prefer to be meaningfully recognized when asked if they'd like more frequent or more meaningful recognition.
"Meaningful recognition can be boiled down to three key approaches," says Achievers Chief Workforce Scientist Natalie Baumgartner. "Focus on something specific the employee did, a way in which the individual made a difference to the person that shared the recommendation or something about the individual or their specific values. This demonstrates the depth of the recognition and a more intense feeling of belonging more than sharing a generic job well done."
Recognize, rinse, repeat
While meaningful recognition trumps frequent recognition, it's still important to note that 60 percent of employees that are never recognized said they plan to job hunt in 2022. Individuals that are recognized weekly are twice as likely as average to have strong job commitment.
When employees feel valued for their contributions, their potential impact on the organization dramatically increases as revealed in a survey from the American Psychological Association. The study found feeling valued at work was linked to higher levels of engagement, satisfaction and motivation. Organizations should look to focus on both the quality and quantity of recognition, recognizing employees in real-time within the flow of work.
Recognition training 101
Once a company understands the utility of recognition, it's crucial to understand how best to use the tool to drive the outcomes you're after. Giving meaningful recognition doesn't always come naturally for people managers, so it's critical that HR leaders and executives equip managers with the necessary tools to be meaningful in the moment.
While 90 percent of HR leaders say they offer recognition training, only 41 percent of employees say they've received it, and even less (about one-third) of those trained received instruction on how to recognize employees meaningfully. This data represents a strong disconnect between leaders and their workforce, as well as a void that regular training on recognition best practices can fill.
If an organization can check the box that a recognition training has taken place, it's imperative to assess the regularity of these trainings – and their impact. Training can often be seen as "one and done" — with an idea being introduced but hardly reinforced. Conducting regular recognition training and showcasing examples of what great looks like is necessary to foster a culture of recognition.
"Business leaders in this new era of work are facing new and sustained challenges, from driving retention to adapting to hybrid ways of working, and everything in-between. Recognition is proving to be the best lever to pull to influence engagement, productivity and advocacy," says Baumgartner. "A strong culture of recognition can help retain talent by competing beyond salary and standard benefits and perks."
Successful organizations realize to remain competitive, they need to habitually embrace changes that align with the values of their workforce. After all, creating and maintaining the conditions for optimal employee experience allows employees to do the best work of their lives. The last two years have demonstrated that these conditions should be elastic so they can respond to unforeseen forces – bend, but never break. The ties that bind all this together are belonging and ensuring that wherever and however an employee works, they feel welcomed, known, included, supported and connected.
What many managers misunderstand is that potentially "high performers" are showing up as low performers because they haven't been given the proper challenges and encouragement, says the CEO of Let's Grow Leaders. Similarly, leadership experts say "low performers" do a good job, but only when they're encouraged, reminded and guided every step of the way. Here, recognition has great utility.
As organizations work to stem the tide of historic levels of resignation, workforce science demonstrates that recognition is not only the thing that will keep them afloat but also a key lure in recruiting the next wave of talent. As the top driver of employee engagement, supporting employee recognition is one of the best ways HR leaders can address a hyper-fluid pipeline. Employee appreciation needs to be meaningful, frequent and a core part of organizational culture to have a real impact.
It may seem obvious, but it is pressingly important for leaders to increase their efforts to keep their talent engaged. That means recognizing talent early and often, explicitly linking their individual contributions to the overarching impact, and being open to the new way of looking at our workforce. Welcome to The Great Recognition.
Related Articles
Webinars