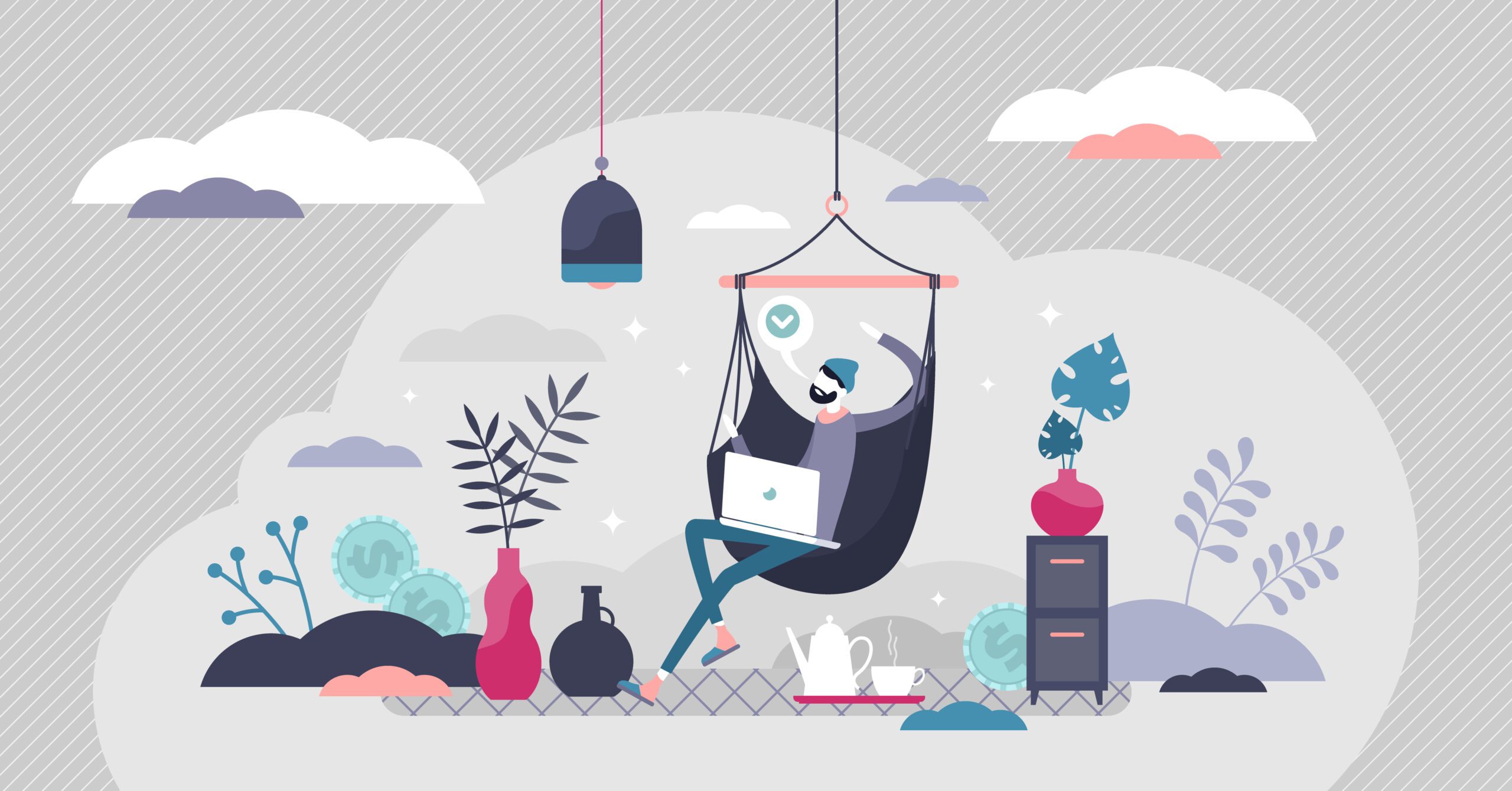 Trust, accountability and mindset: The 3 musketeers of hybrid working
How do businesses thrown into hybrid working during the pandemic now ensure it runs smoothly for diverse workforces with a constantly evolving culture? Here are a few science-backed recommendations for leaders looking to navigate the world of hybrid working.
May 12, 2022
Hybrid working isn't a fad. It's not a futurist movement or something only suitable for tech companies either. It's the way people expect to work now, and organizations must embrace it if they are to succeed in 2022 and beyond.
Hybrid work brings a world of opportunity filled with more diverse workplaces and flexibility. But it also creates new issues for leaders as they work to create high-performing teams. Leaders and teammates must have the confidence to trust and hold each other accountable in a positive way and with a new mindset. 
What business wants vs. what individuals want
One of the most significant challenges is that some businesses want a return to the office. It helps with collaboration, culture, speed of change, learning and onboarding new joiners. Casual collisions in the office kitchen also provide value for both employees and the business.
But businesses do recognize there are benefits such as reducing office space, environmental impact with reduced commuting and productivity gains. Individuals are fans of the reduced commuting (time and lower fuel costs) and increased flexibility. Many also believe they focus better at home and have more work-life balance.
But it's a slightly mixed picture with 55 percent saying they are no more, or less productive at home. Some want to return to the office to get away from distractions. We've also seen stories of reduced well-being linked to dulled motivation and focus from individuals working from home throughout the last 18 months. In the office, relationships are cultivated. It's easier to spot someone who is distressed and needs care and is more reliable than online.
The CEO of Washingtonian magazine wrote an op-ed arguing that up to 20 percent of employees' time in the office is spent boosting feelings of inclusion by helping a colleague, mentoring more junior people and celebrating someone's birthday.
The Great Resignation
The big thorn in hybrid working's side is the significant percentage discrepancy between employee desire to work from home versus planned organizational policy. When those key factors don't align, we're left with a huge fallout like the Great Resignation, where 41 percent of the global workforce are considering leaving their employer in the next year. Coupled with the 42 percent of employees saying it would likely be a resigning matter if they were asked to return to the office full-time, a thoughtful approach to hybrid working becomes critical to retain and engage talent.
If we don't manage the change of hybrid working, it's likely the impact will be long-lasting. Poor change management increases cynicism and reduces job satisfaction and organizational trust, so the stakes are pretty high.
The psychology of change – being human
To understand the root of challenges of hybrid working, we need to understand the psychology behind how people work effectively and respond to change and uncertainty.
When people encounter change, it's natural to feel threatened and insecure. People exhibit one of two behaviors in response to threat: fight or flight. This is not new on an individual level. When responding to change, you fight or flee – and it's even more heightened for those who are societally stigmatized.
When we feel threatened on an organizational level, there can be a splintered reality where everything feels more difficult to get right. Communication is happening, but it feels like you're constantly misunderstood. You're working harder, holding more meetings and working longer hours to ensure clarity is achieved, but the minute you move to the next meeting, you know something is confused again, and the ball gets dropped. Work feels disjointed, and you doubt you're being effective, or if your team is, so your confidence plummets.
A shared reality
But it doesn't have to be the splintered and painful way if we have a shared reality. Put simply: the commonality we have together. Shared reality shows up in our language, tone and ways of working – the social fabric of how we work together. Moments of shared joy, such as being able to stop by someone's desk to check in, holding conversations in the hallways to get a feel for how your teammate is doing or grabbing coffee together.
We have had years of establishing routines for how we work and communicate. Whether our own situation (being remote/in office) has changed or not, these routines and rhythm to work have now been disrupted. Creating a new shared reality will take time, but there are ways we can accelerate the timeline and help work feel easier and more productive.
Rebellion or apathy
Organizations approach the creation and development of shared reality in different ways. One way to emphasize the right rules and policies that are structured and regulated is to provide clarity. In some instances, there are specific rules about the number of days you must be present, and how there will be penalties applied when this rule is not followed.
The risk here is psychological reactance from employees. When people feel their autonomy is threatened, they will react in the opposite way (e.g., rebellion) to regain their sense of control. On the other end, some organizations say "culture is not your building," so employees are free to do what they want in the name of empowerment. The risk is a loss of social capital in the long haul – will people enjoy working here if there isn't a sense of collective bond?
Recontract
These approaches miss lack the emphasis on the need to recontract. We can achieve shared reality by recontracting how we work upfront. Contracting does not always mean something to do with formal, written contracts. The term psychological contracting means the formation of mutual expectations and understanding between an employer and an employee. So, when we talk about re-contracting how we work, we simply mean revisiting those expectations, and if necessary, redefining them.
The 3 musketeers of hybrid work
Recontracting to achieve shared reality requires:
1) having the right mindset
2) balancing trust
3) balancing accountability in the organization.
Mindset
Research shows when companies go through big transformation, gauging employee mindsets to identify underlying issues and put solutions in place were explicitly part of the conversation (either entirely, 25 percent or very, 70 percent) and were more successful in the transformation. However, when transformations weren't successful, few remember hearing conversations about mindset. We need to have explicit conversations about mindset when recontracting and re-establishing shared reality.
Balance trust and accountability
Trust is the firm belief in the reliability of someone. Trust creates psychological safety which enhances belonging and inclusion. Accountability is the assurance someone will be evaluated on their performance. Accountability sets clear expectations that help facilitate effective working and higher performance.
Getting this balance right is essential because when trust and accountability are not in good proportion, it presents risks for the business.
With high trust and low accountability, you get social loafing. Remember being assigned group projects and dreading it because you felt you carried all weight and the team benefitted from your hard work? As a result, you felt resentful of your team because they engaged in social loafing. Social loafing happens when people use the reduced risk of evaluation as an opportunity to free load.
With low trust and high accountability, you get micromanagement. For example, structured policies about how many days you should be in the office can be interpreted as having high accountability and less trust. But approaches with free-flowing policies claiming "culture is not your building" are in the low accountability and high trust zone which can cause social loafing.
The winning formula
Preventing an off-balanced approach and achieving shared reality needs both high trust and high accountability. There are benefits to balancing trust and accountability for all levels of the business. Team members feel more empowered and engaged vs. chaotic and unclear on roles. Managers and leaders have better team performance and less time wasted dealing with poor performance. And the business benefits with greater innovation and stronger results. Add in the right mindset, and you have the three musketeers of hybrid working.
Related Articles
Webinars