Headquartered in Nashua, New Hampshire, a family-owned manufacturing company with more than 300 employees across five states, has a long-standing wellness plan inclusive to every employee and flexible enough to operate in a busy manufacturing environment.
Founded in 1866, Worthen Industries is an adhesive and coating manufacturing business utilizing an employee wellness program that helps employees have healthier lives in the workplace and at home.
"Employee health and safety has always been an underlying theme within the organization," says Eric Worthen, president of Worthen Industries. "Our philosophy is that a healthy and happy workforce makes for a better, more profitable company and recruits better people."
For more than ten years, in collaboration with Wellness Workdays, Worthen Industries' wellness program has provided wellness coaches and evolving strategies to develop initiatives that work on a personal level. Their hands-on family approach to the program has resulted in more than 85 percent of employees using the program to improve their health, including 75 percent of employee spouses.
Wellness as culture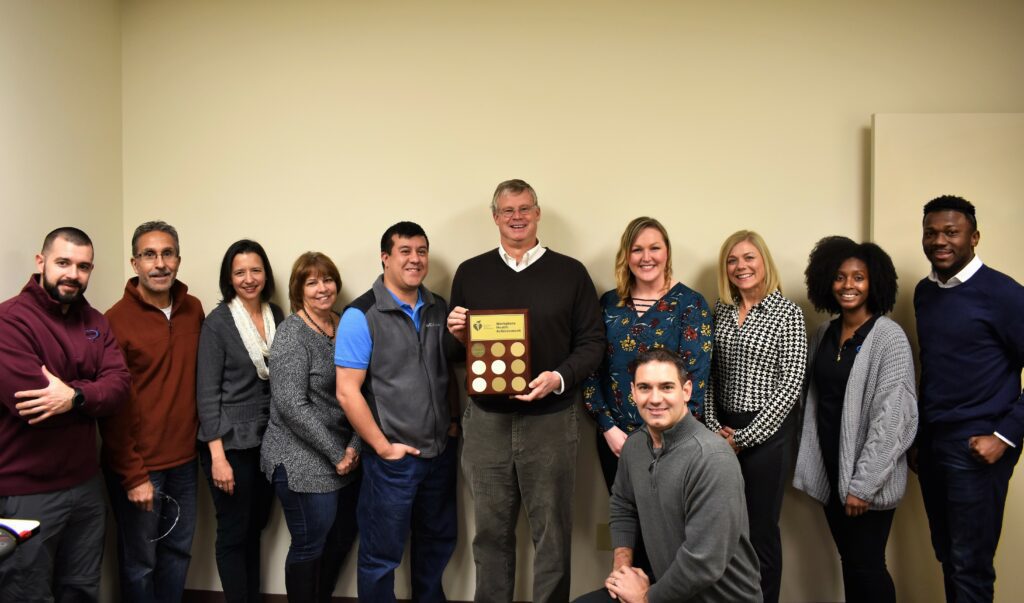 Wellness Workdays "understands its environment and employee culture and integrates itself to improve that culture," says Debra Wein, CEO of Wellness Workdays, who founded the company 18 years ago. "But wellness also helps create that culture."
When wellness is integrated into the culture, employees can move beyond the job-to-job chase of a better paycheck and focus on where they feel they belong. As a result of their wellness program and on-site health coaches, Worthen employees have seen reductions in health risks across the board. Sixty percent of Worthen's population have moved into lower-risk health categories, 70 percent of employees with hypertension reduced blood pressure to acceptable levels and 43 percent have reported less binge drinking.
Having a wellness program based on traceable data is important to Worthen; biometric screenings and extensive assessments with each employee help expand the database to provide a baseline. Health coaches even visit the manufacturing floor to provide support for employees at work. As the program evolves, health coaches and a wellness committee collect data and implement it to maintain a safe and healthy workplace.
Well-intentioned programs that allow employees to engage with one-on-one health coaches and professionals fosters employee engagement and participation. Having a health coach or professional who employees are comfortable approaching is crucial to open barriers to engagement.
Addressing COVID-19 challenges
As a manufacturing company, Worthen understands going remote or hybrid isn't practical. While COVID-19 brought challenges that no one could fully prepare for, the foundation of a wellness program provided trusted resources to deal with increasing levels of stress and mental health concerns exacerbated by the pandemic. As a result, 33 percent of employees have reported less stress and 50 percent fewer employees experienced episodes of depression. Worthen leaders know the resiliency of their wellness program strengthens their employees, and thus the success of their company.
Employees can utilize on-site health coaches and programs to find support with anxiety, depression and healthy immune systems. January was a mental health awareness month for Worthen Industries, with short meditative exercises and other tactics to help relieve stress and decrease the stigma of asking for help. To make access even easier from home, Worthen will be rolling out an app for workers to use on their phones, says Eric Worthen.
Beyond the workplace
Long term health and safety changes come from consistency and commitment at work and at home, says Worthen. Currently, 75 percent of spouses are also enrolled in the program. The program includes access to a technology portal at home to connect with health trackers, articles and programs.
"So it is like a family, they treat each other like family and the layout of the program, because it's data-based and the way it's laid out, foster's participation from spouses," says Wein. "I think it's a wonderful way to demonstrate to employees that we care about you and your families. Worthen does that extremely well."
As important pillars of support, family plays a significant role in the health, habits and lives of Worthen employees. Quitting smoking, changing eating habits and adapting better health practices is easier if you are supported at home; a quarter of Worthen employees have quit smoking thanks to the program.
On a financial level, by rolling spouses into family insurance plans, the platinum level at Worthen covers 100 percent of employee insurance costs. In turn, this saves Worthen money overall, with productivity savings of more than $118,000 per year and average decreased medical spending of $70,000 per year.
An evolution of wellness
As part of the program, Worthen participates in wellness team challenges with leadership and on-site wellness coaches. Most challenges center around physical goals with individuals, small teams and even manufacturing plant against plant for various health challenges.
Program engagement as high as 85 percent is in part due to a well-designed program, but also a reflection of the genuine leadership that participates and believes in the program and the work they put into it themselves. In other programs based solely on technology or advisory email blasts, there isn't a possibility to have this much effect on the actual wellness of employees.
"This intense focus on their employees has really demonstrated to be a successful approach to employee wellness," says Wein.
Through continued effort and adaptability, a wellness program should achievable, trackable and innovative. Cooperating with other organizations outside of your workplace rewards different perspectives and can utilize specialized and modern ways of improving employee wellness.
"Employers need to realize that there's no perfect wellness program, and some don't get started because they're afraid of failing," says Wein. "Employee wellness programs should evolve, just like marketing or social media programs evolve over time."
The future of wellness
"Employees spend as much, if not more time, at work with their work-family than they do at home. I think the responsibility of an organization is to make sure you're asking employees to do a lot every day and to make sure they have the tools they need to be as successful as they can be in life," says Worthen. "A big part of that is help. If you've got your help, you're generally happier, you're generally going to have a better home life. It's an organization's responsibility to treat their employees in that manner." 
Worthen Industries knows that understanding employees and their needs and combining that knowledge with effective programs and services is the best way to grow a successful wellness culture. Worthen Industries has seen more than a quarter of their employees report better life satisfaction. A genuine interest in the well-being of employees affects every level of the organization positively and creates an all-encompassing culture of wellness.