As a chief people officer for global organizations, I have managed through the ups and downs of economic cycles and had my first experience leading through a health crisis while living in Asia during SARS. Although much has changed since I started my career, the global COVID-19 pandemic has created a seismic shift in the world of work. Across every country and demographic, people are questioning what they want from careers, debating the challenges and benefits of working from home, and trying to find the best way to lead and engage virtual teams. 
It's been more than 20 years since Charan, Drotter and Noel published "The Leadership Pipeline," which highlighted the need to develop leadership at every level of the organization. Their model described the seven levels of leadership and the importance of managing the transitions as you progress through each level on the leadership journey.
This article will focus on three levels of leadership: Leading Self, Leading Others and Senior Leadership (the remaining four levels of the leadership pipeline have been combined and classified as Senior Leadership).
As we have witnessed first-hand, COVID-19 has tested leaders' and employees' ability to manage through a crisis with unprecedented challenges on both personal and professional levels.
Those who have been able to adapt to the new requirements as leaders during the pandemic have come out stronger, but, from my experience, those who have been most successful have focused on the skills required to lead themselves. Before we delve into what has changed for leaders at different levels, it is worth sharing some of the focus areas required for self-leadership.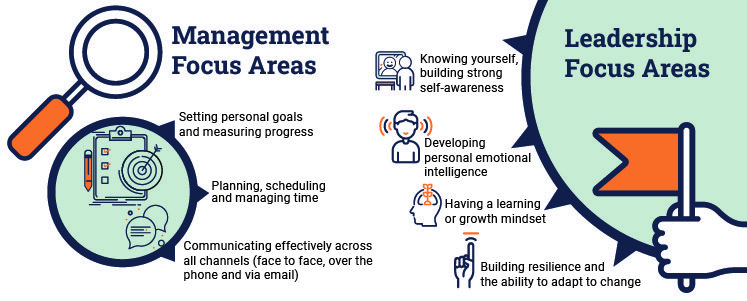 We all know the advice: "Put on your oxygen mask first before helping others." With the ongoing uncertainty and increased stress and workloads, it is more important than ever to prioritize personal health and well-being. What worked prior to COVID-19 may not work now, so ensure you find ways to continue to have a healthy mind and body. HR teams can take the lead to ensure they have a wide offering available for employees, many of which are free and accessible online.
So how has the pandemic changed the requirements of leadership?
Senior leaders: Lighting the way
Real estate agents talk about the importance of location, location, location. For senior leaders, the mantra during a crisis is communication, communication, communication. Frequent and clear communication is critical. In my last role, we started every employee townhall with the same message: where we were going and why.
We talked about the importance of focusing on our business vision and our values while we navigate uncharted waters during a storm. With so much change and uncertainty, it is important to keep the communication simple and consistent. Identify the key messages employees need to follow for your company's North Star and repeat them in all communications.
How you communicate is just as important as what you communicate. Trust and respect have always been important, but now employees want leaders who are authentic, real people, who share stories about what they do outside of work and how they have overcome mistakes and challenges.
As a senior leader you need to light the way through the storm. If this is not your strength, find ways to communicate and engage with the organization that work for you, but communicate clearly and often. HR leaders should work with senior leaders to develop their storytelling skills so they can communicate in a more authentic, engaging way.
Leading others: Staying close and on track
The role of the front-line manager has always been hard, and it has become even more difficult during the pandemic. With the constant changes at work and home, it's been a rollercoaster your team can't get off. 
Therefore, it is more important than ever to stay close to your team. Talk to them often, individually and as a team, to see what is happening in their life at work and at home. For those less comfortable with sharing, use simple ways to talk about this, such as emojis (smiley versus sad) or a simple one to five scale.
HR can do short pulse surveys and act quickly to address issues. However, surveys do not replace the direct conversations between a manager and their team, as numerous studies have shown that having a trusted, supportive leader is key to sustaining high performance.
Once employees feel safe and supported, managers need to make sure their teams achieve their goals. I have always liked the concept of the 20 Mile March that Jim Collins describes in his book "Great by Choice." Once the senior leaders have established the organizational goals, or North Star, front-line managers should set daily, weekly and monthly goals to ensure their team is staying on track.
In the words of Collins, "The march imposes order amidst disorder, discipline amidst chaos, and consistency amidst uncertainty … . Most everything is ultimately out of your control. But when you 20 Mile March, you have a tangible point of focus that keeps you and your team moving forward, despite confusion, uncertainty, and even chaos."
Be clear when setting goals; clarify due dates and describe what a good job looks like. Scheduling regular one-on-ones with each of your team members is even more important in virtual teams.  Have a standard agenda and make sure it includes time for a personal check-in as well as business deliverables. HR leaders should provide training on effective goal setting and ensure there are user-friendly tools, templates or systems for the employee and manager to use during their 1:1 meetings.
Leading self: Awareness, action, engagement
Since the pandemic began, many have had to take on additional roles of home-schooling children and managing through toilet paper shortages whilst spending hours in virtual meetings. Lockdowns and remote work provided people across the globe with the power to redefine when and where they work, but, in the words of Spiderman, "With great power comes great responsibility." The new world of work requires individual contributors to step up and take accountability for managing themselves and their deliverables, as well as their own engagement. 
The first step to managing yourself is being honest about your strengths and areas for development. Employees should think about what they will stop, start and continue doing to be successful in their position. Some people are naturally self-disciplined, but, for the rest of us, a plan is required.
Coming back to the ideas from the 20 Mile March, employees should create a detailed, step-by-step plan on how to accomplish goals. The final area of focus can often be the most challenging. Generally, employees look to their manager or HR to provide an engaging workplace. In the new world of work they have a role to play, but now more of this responsibility lies with the employee.
The new ways of working will require individual contributors to take more accountability for their performance and engagement. HR leaders should communicate that the employee-employer relationship is changing, clarify the new role employees have in managing their work and engagement in a virtual work environment, and provide training to help them achieve personal excellence.