Imagine, you are the CEO of a company and need to implement a change that will impact how your business operates. What will inform your decision-making process? Or, you are the leader of a team and are dealing with poor performance within your team. How will you determine the best way to start improving performance? Or, you are an employee that must determine the best way to complete your job. What will you compare your behaviors to?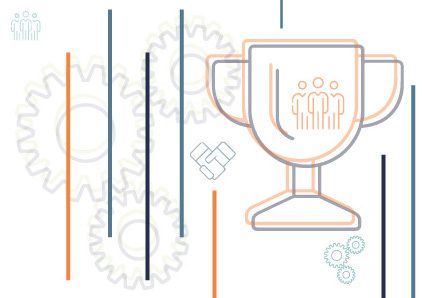 Each of these examples occur every day. For many, there is not much guidance around how they should make decisions, lead their teams or develop their skills. Due to this, organizations, teams and employees can find themselves disconnected from each other. Through the development of a values-based culture, you give your organization a foundation on which members can make decisions that not only impact themselves, but the entire organization.
A values-based culture can bring alignment and set the stage for operational excellence. At its basic form, a values-based culture is one where people within an organization operate under a shared system of values. These values can be anything that allows your organization to have a framework for alignment in how the organization will operate.
According to Ann Rhoades, author of "Built on Values," six principles are needed to build a values-rich culture:
Principle 1
You can't force culture. You can only create environment. A culture is the culmination of the leadership, values, language, people processes, rules and other conditions, good or bad, present within the organization.
Principle 2
You are on the outside what you are on the inside…no debate! You cannot create a great organization if you treat employees badly. The bottom line? The service you provide for your customers will never be greater than the service you provide to your employees.
Principle 3
Success is doing the right things the right way. By defining your values and the behaviors based on them, you also simplify the task of day-to-day decision making. Ask: "Does that make sense in light of our values?"
Principle 4
People do exactly what they are incented to do. Your values will be perceived as hollow and meaningless unless you base compensation and rewards on expressions of the behaviors that go along with the values.
Principle 5
Input = Output. You are never fully "done" with culture. Values maintenance – what we call continuous improvement – is as important as values creation. This will require regular monitoring along with values-based leadership development and succession planning.
Principle 6
The environment you want can be built on shared, strategic values and financial responsibility. Conscious action, beginning with determining a set of shared values, can set up the necessary condition for encouraging a culture that will make an organization into a leader in its industry.
Each of these principles provides a framework for how organizations can begin the development of their own values-based culture. As noted in the principles above, organizations can expand on the identified values with guiding behaviors.
Guiding behaviors are actions that bring your value to life. If one of your values is integrity, what behaviors would demonstrate integrity in your organization? If someone were to ask you what that value meant for your organization, how would you describe it? Some examples could include:
We will be ethical in our decision making.
We will honor commitments.
I will be open with my purpose and expectations.
Guiding behaviors such as these allow employees to identify what the value means to the organization and specific behaviors they can align themselves to. While you cannot list every behavior attached to a value, providing a few examples to provide context to employees will be beneficial.
To support those identified behaviors, teams can then define how their work connects to the values and the guiding behaviors. By doing this, you empower employees to further define how their work in a team setting supports the values of the organization.
If a customer service organization identified the values listed below, a team could then add how their work specifically brings those values to life.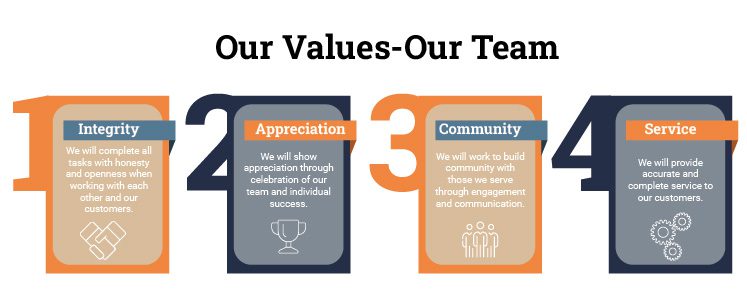 By allowing teams to drill the values down to their scope of work, you are empowering employees to describe how the work they do connects to the organization. This awareness creates the opportunity for employees to develop higher levels of commitment and engagement.
Once an organization has developed a list of values, additional tools can also be developed to enhance integration: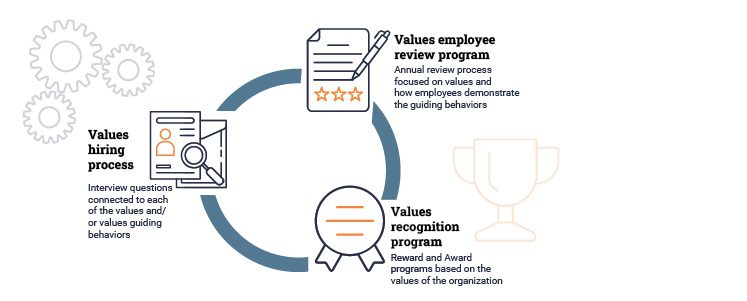 There are a multitude of programs and initiatives that can be developed around values. Each of the programs listed above focus on further integration of the values into the daily operations. These programs can support your employees whether they have been with the organization for one day or 30 years.
A values-based culture provides a framework for clarity around expectations for employees, leaders and those you serve. By engaging employees to define their culture and identifying values that can be viewed as their pillars for operation, you create an environment where employees can own their role within the organization.
Values and guiding behaviors will also lead to a framework for making decisions when faced with challenges. Even if your organization already has a values system in place, re-visit those values with your employees and inquire how they connect each value to the work they do.