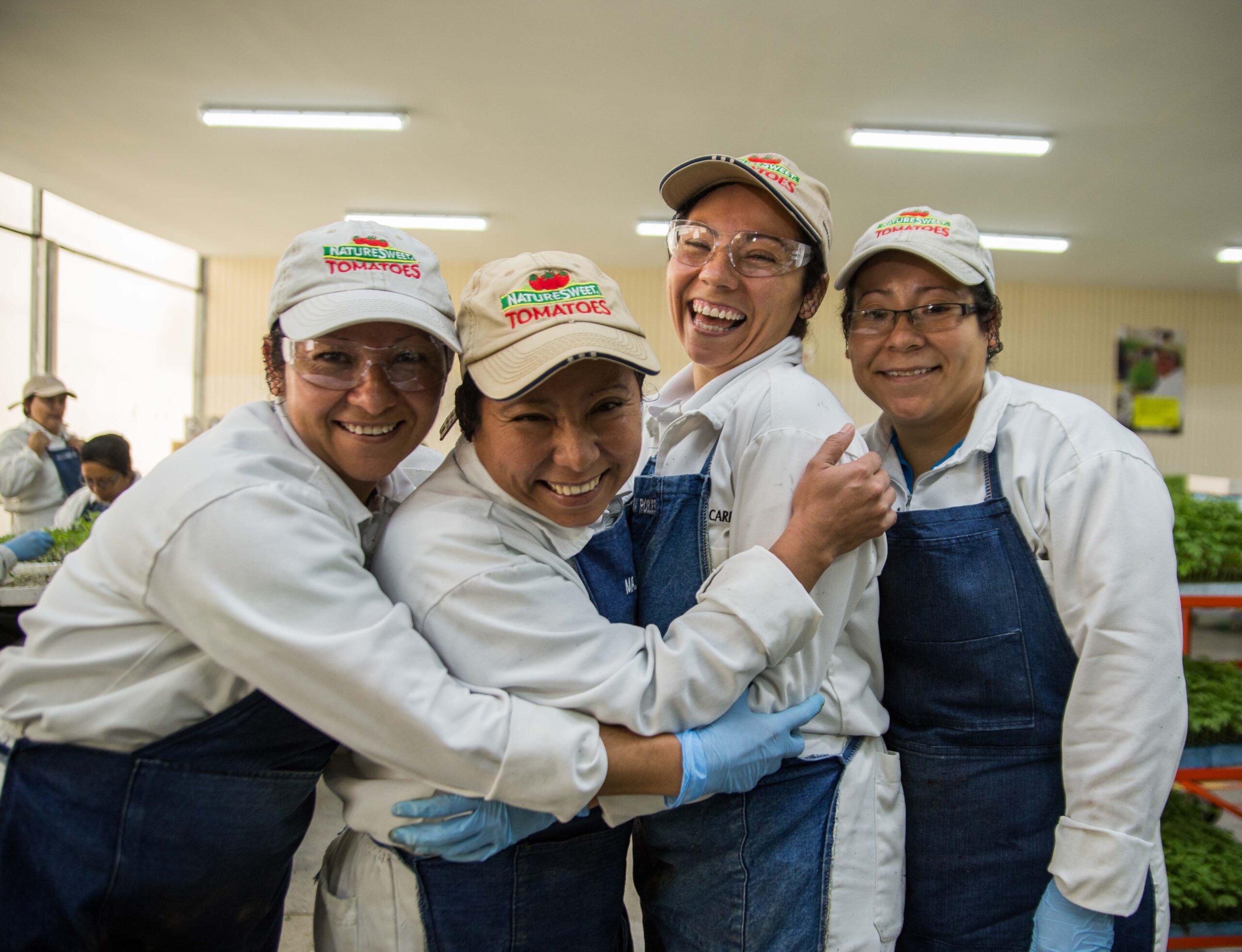 The power of people: How NatureSweet Tomatoes engages employees and benefits the bottom line
NatureSweet's Meet Our Associates campaign is connecting consumers to the people who grow their food while highlighting how the company invests in its people.
October 5, 2021
NatureSweet Tomatoes has a vision: to transform the lives of its employees while providing consumers with great tasting tomatoes year-round. It's a bold ambition for a company in the agricultural industry where employees historically work for low pay, have little stability and rarely see opportunities for growth.
"In the U.S., we don't hold agriculture as a profession of value, but these are the people who feed us," says Lori Castillo, VP of marketing for the San Antonio-based grower, packager and seller of tomatoes and other produce. "We hold ourselves to our mission of transforming our employees' lives," Castillo says.
The company has more than 8,000 employees, 5,000 of whom work in the company's sprawling greenhouse facilities located in the Sierra Madre region of Mexico. Because the tomatoes are greenhouse-grown to ripeness in a controlled environment, the work isn't seasonal, which means associates work full-time positions. Castillo says NatureSweet pays a living wage that can comfortably support a family of four and provides opportunities for bonuses and pay increases when associates complete training and certifications.
Hard work pays off
Offering wages above industry standards isn't about charity, says Amit Patel, marketing director for branded products at NatureSweet. It is a for-profit company, whose leaders believe paying fair wages, treating associates as part of the team and creating opportunities for growth simply results in better products.
The higher wages reflect the investment of time and effort by employees, Patel says. "It is engrained in our culture that the harder you work the more you get."
The company's leaders know the success of the business depends on their associates' willingness to work hard and learn how to deliver the highest quality product within the controlled greenhouse environment, so investing in their success is fundamental to the business, Castillo says. "We don't grow our tomatoes by the pound, we grow them for their taste. It takes a lot of training to make that happen."
This approach helped the company expand its operations from a single small farm in Texas in 1990 to a $2 billion corporation with more than 1000 acres of greenhouses. The company's commitment to producing flavorful vine grown tomatoes and delivering them to market in its signature clamshell container with a peel-off lid has also helped to create a "snacking tomato" market, which now represents more than one-quarter of all tomatoes sold in the U.S.
Meet the associates
As the quality of the produce and success of the brand depends on the dedication and hard work of the associates, Castillo wants consumers to meet them. "What better way to showcase our culture than by inviting the people who make it great to tell their stories," she says.
When her team first came up with the idea of sharing associate's stories on product labels, their industry consultants shot it down. "They told us that no one wants to think about fair labor practices when they are eating," she says. "It was too heavy."
But Castillo believed it would be an honest and authentic way to engage consumers with the brand in a way that no other company was doing. So they pushed ahead. In 2017, the company started a campaign called Tomatoes Raised Right that introduced consumers to the associates who are growing their tomatoes.
It began with a photo of one associate hidden on the underside of the label of a 10-ounce package of tomatoes. "It was positioned as a small surprise," she says. No one was sure if consumers would even pay attention to it. They were shocked by the response.
Tell us more!
The company received a flood of comments in response to the campaign from consumers who loved the stories and wanted to engage more with the associates, Patel says. They received letters, photos and drawings from children who connected with the associate's story. "They were craving a deeper understanding of where their food comes from."
That response led the company to expand the campaign with multi-channel content. They had television ads, new profiles and new ways for consumers to connect with associates. There are now more than 20 online profiles of associates telling stories of how working at NatureSweet has impacted their lives.
Consumers can watch their videos, read their stories and send notes to associates through the company's website and via a QR code on each label.
And the responses keep coming. "The letters from consumers are awesome," Patel says. In one case, a teacher used the campaign to teach her students about agricultural work and how produce gets to their tables and had them all write letters to their favorite associates.
Patel's team reviews all the messages to make sure no trolls are getting through, then shares them in one package with the associates. "We make it a celebration," he says. "It's exciting for them to see the impact they are having."
Unscripted stories
Every two years, NatureSweet asks each facility to nominate two new associates to be profiled in the campaign. The marketing team interviews them in their workplace about their job and its impact on their lives, then posts the content on the company's Meet Our Associates webpage.
In the interviews, they talk about their experience in the company, how they've moved up through the ranks and what the job means for their lives and their families.
David Guerrero, for example, worked as an irrigation leader in Tuxcacuesco for nine years and is about to finish a degree in engineering with a focus on sustainable agricultural innovation, which he plans to apply back on the job. Jessica María Lara has worked in manufacturing at the Zapotlán facility for eight years and says the job gave her the opportunity to complete her high school education and purchase a home for her family.
The company doesn't provide scripts or direction on what to say, says Juan Carlos Erikson, director of external corporate communications at NatureSweet. They just ask them to tell their story. "The pride and joy they feel about the work comes through in every interview," Erikson says.
In September, Erikson filmed the latest series of interviews with nominated associates, including Brenda Patricia Arroyo Ramírez, who started at NatureSweet in 2008 as a sweeper and packer and is now a packaging operations leader.
"I cannot express the impact it has had to become the face of NatureSweet, for me and my sons," Ramírez says about the experience. "When they saw their mother being part of the label it was very emotional. It makes me feel happy and proud to keep giving my best to this company."
Transforming an industry, one tomato at a time
The Meet Our Associates campaign started as a novel idea but has become synonymous with the brand. Patel notes that the ads featuring associates get a much bigger response than ads focused on product quality or unique packaging. He says the campaign is helping to drive sales. "It's an authentic way to tell our story and customers are very interested," he says.
NatureSweet hopes the campaign might inspire other companies in the agricultural sector to rethink their own approach to talent management and employee engagement. "We want to transform the industry through the power of people," Castillo says.  Sharing stories of how the company invests in its people and its processes and how that translates to better and more consistent products proves the operating model is good for the bottom line.
And for companies with similarly supportive cultures who want to share their own employee stories, Castillo urges them to be authentic and honest. "The most important thing is that the stories are real," she says. "Because if they aren't consumers will see right through you."