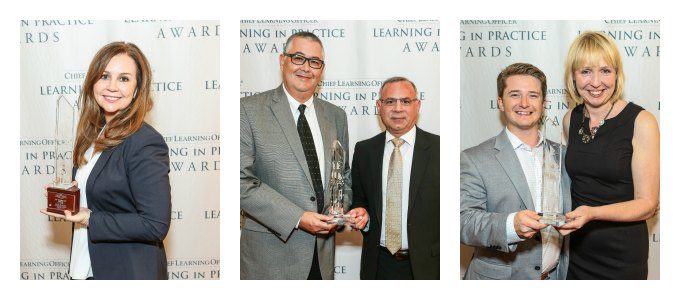 Learning in Practice 2015: Technology Division 1
From Left: Elizabeth Bryant, Paul Clemente, Helen Zarba 
Gold
Elizabeth Bryant
Vice President of Southwest Airlines University, Southwest Airlines
"Waste not, want not" appears to be the new motto for the learning and development branch of Southwest Airlines. As recently as 2013, the company was printing out hundreds of pages for training manuals for each of its instructor-led classes. Not only were these manuals expensive to produce and harmful to the environment but also they quickly became outdated.
What the airline needed was a paperless solution to more effectively engage employees, and it found a solution in 2011 with the iPad. The initiative involved converting existing manuals into innovative and engaging e-books. Customer service agents were the first trained using this method beginning in summer 2013.
The program was immediately successful. Southwest Airlines University, the company's official learning function, led by Elizabeth Bryant, was able to design, develop and deliver training content faster than with paper manuals. Once the initial e-book was created, revisions took a fraction of the time they used to. The e-books also allowed employees to highlight text, take notes and browse through galleries of high resolution images that brought the text to life in a way the paper format could not.
While the initial cost of purchasing so many iPads was great, after just 30 classes the first group of iPads the company purchased achieved a return on investment and began to save the company money. The iPads diminish Southwest's environmental footprint as well as eliminating costs from paper, ink, printing machines and manpower at printing stations for a savings of $5,000 a month.
Silver
Paul Clemente
Raytheon Six Sigma Operations Program Manager, Raytheon Co.
As part of the defense and aerospace industry, Raytheon's four business units are faced with an unpredictable government environment and an increasingly competitive landscape. To drive continuous improvement within all four businesses the company adopted Raytheon Six Sigma, a combination of Six Sigma and lean principles and practices.
Raytheon Six Sigma experts, or black belts, execute these principles throughout the company to solve complex problems critical to the company's success. Considering their importance to the company, it is critical that black belts are well-trained. Previously, development was limited to an established three weeks of classes, but Raytheon wanted to extend learning beyond that classroom experience.
To do so, Paul Clemente, R6Sigma operations program manager, helped develop an interactive learning environment call the Strategic Development environment. Students are provided with an Apple iPad so they can connect with interactive content, gaming, checkpoints and evaluations that check their daily progress. Anecdotally, the multifaceted interaction has proven to keep students engaged during long days of training.
Bronze
Helen Zarba
Vice President of Organizational Development and Learning Services, Bright Horizons Family Solutions
Using a "snapshot" tool that allows supervisors to view an employee's current performance reviews and progress toward established goals, Bright Horizons Family Solutions' Helen Zarba created more visibility into its employees' learning and provided a more accurate depiction of each employee's current performance. The overall rating for the tool is 6.27 out of 7.