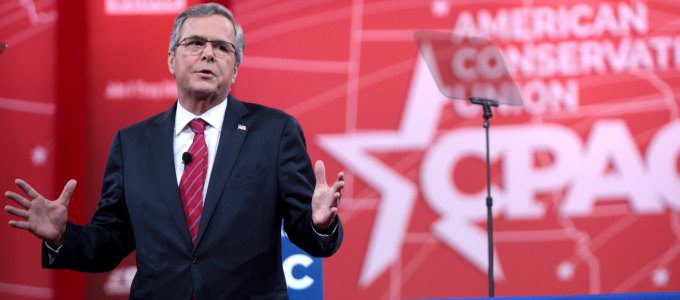 No, Jeb Bush — Longer Work Days Won't Help
The presidential candidate says Americans need to work more hours to get the economy back in shape. Psychological studies say otherwise.
July 14, 2015
Former Florida governor Jeb Bush speaks at the 2015 Conservative Political Action Conference (CPAC) in February 2015. (Photo by Gage Skidmore, courtesy of Wikimedia Commons)
Last week, presidential candidate Jeb Bush declared that America needs to work more hours.
"Workforce participation has to rise from its all-time modern lows," he told the New Hampshire Union Leader. "It means that people need to work longer hours and, through their productivity, gain more income for their families. That's the only way we're going to get out of this rut that we're in."
The real rut we're in is becoming a slave to every sly under-the-dinner-table email check and 10:30 p.m. spreadsheet update. Our brains need rest, and we're not getting it in the name of working hard now to be able to kick back "someday" — a gamble, as Americans are retiring later, too.
Last August, Gallup reported the "40-hour workweek" is actually 47-50 hours for most full-time employees. Of the 1,032 respondents, 18 percent reported working 60 hours or more.
Working too long affects a person's skills and the way they use them. The Finnish Institute of Occupational Health studied 2,200 British civil servants over seven years and found those who worked more than 55 hours a week had problems with short-term memory and word recall. They also were at greater risk for alcoholism and dementia.
Exact neurological reasons behind this are still unclear, but common sense can probably explain why more work means less performance. Sleeping disorders, depression, unhealthy lifestyle and stress aren't exactly great brain food.
Learning leaders have a responsibility to teach employees not just to step up at work but also to step away from work. This might mean enforcing breaks — I'm notorious for midwork munching rather than actual get up from your desk lunching, so I'm thankful any time my boss asks, "Did you go to the gym this afternoon?" to shame me into getting away from my desk for a while.
Or use technology, the reason we can all work at home after hours, to your advantage. Volkswagen shuts down its internal email service to Blackberry phones after its employees' shifts are done.
After having several of his opponents from both the Democratic party and GOP jump down his throat for the comment, Bush clarified that he meant people needed to work full-time jobs instead of part-time gigs so they can bring in more income, but his original quote certainly hints the other way.
I wonder how much time he spends campaigning per week. If he cut down on the hours, his first response might have been clearer, and we would have avoided this whole conversation.