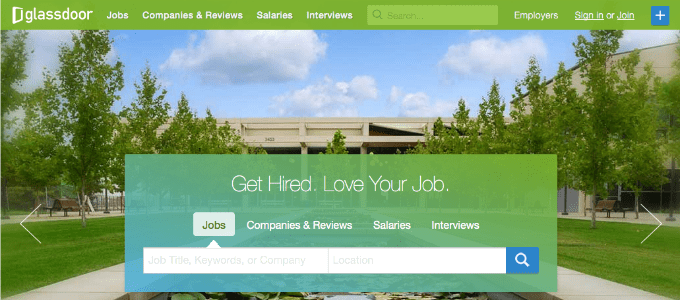 Glassdoor Opens the Door to Transparent Training
The job site's new tool allows companies to emphasize their development opportunities to prospective employees.
April 27, 2015
Attention all learning leaders: Your programs should no longer remain behind closed doors.
At Friday's UpSkill America Summit, job site Glassdoor announced its new On-the-Job Training Finder search tool. The function lets organizations highlight their development programs to prospective employees, as well as allows candidates to search for jobs based on learning opportunities.
Such transparency could hold companies accountable for providing the training employees want. As companies become more open about what kind of development they offer employees, they'll have to know what their competition is doing — and do better. Talk about a benefit to skill-seeking job seekers.
Glassdoor's new initiative appears to solve one of the biggest barriers to learning: a lack of awareness that growth opportunities even exist. That's not to say the workforce is willfully ignorant. According to a survey conducted by Glassdoor, 3 in 5 job seekers say career advancement opportunities are among their top considerations when deciding where to take a job.
If Glassdoor's tool works the way it's supposed to, companies that are willing to develop talent will also attract people interested in what training they have to offer. Building anything requires a strong foundation — in learning's case, that's an open mind and a willingness to learn.
With anything, however, there is room for improvement. Right now, the tool is based on what employers post and supplemented by what employees comment on. Say Corporation ABC puts up an ad for a manager-in-training, promising leadership development and supervising experience when what they want is someone to act as a glorified secretary for the corner office. Unless Corporation ABC's employees are willing to share their experiences with future potential employees via the site, that job ad will go unchallenged.
Similarly, vindictive employees could rate an ad unfairly because they didn't get what they wanted from a learning program. Maybe that manager-in-training program is wonderful, but the person hired for it just didn't fit the bill. One bad review on Glassdoor could turn multiple candidates off of the opportunity.
Glassdoor's program seems to be on the right track, but only time will tell if it will offer the right platform to match candidates with developmental opportunities.