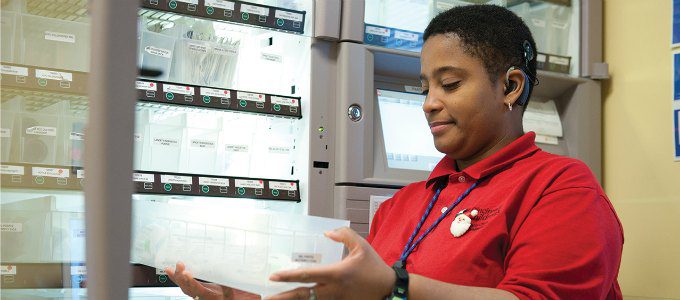 Don't Judge Employees by Their Cover
Cincinnati Children's Hospital and Medical Center started Project SEARCH, a training program for students with disabilities that has produced astonishing results and taught participating businesses the value of inclusion.
April 23, 2015
Project SEARCH graduate Tammy uses the Pyxis machine to stock patient rooms at Cincinnati Children's Hospital and Medical Center. (Photo courtesy of CCHMC Project SEARCH)
Eighteen years ago, Erin Riehle was the emergency room nursing director at Cincinnati Children's Hospital and Medical Center, or CCHMC, when she had an aha moment. "I realized a huge part of our patient population were people with disabilities, but we had no training programs for them."
At the time, Riehle was in charge of hiring and training for her department. She wanted to bring some younger people with disabilities on board, but they didn't have the training needed to succeed in the positions she had available.
This is a common obstacle for people with disabilities. Many of them can work, but government-sponsored education and transition programs don't provide them with the skills or recruiting help they need to find jobs. As a result, the unemployment rate among this population is high — in 2013, just 18 percent of persons with a disability were employed, according to the U.S. Bureau of Labor Statistics.
So Riehle set out to develop her own program. "It wasn't about charity," she said. "I knew these people had incredible interest and capacity to work; they just needed the skills to do the job." Because they made up such a huge percentage of their hospital's patient population, she said it only made sense that CCHMC would create work opportunities for them. "A lot of our experts wouldn't have jobs if people with developmental disabilities didn't come to us for care," she said.
With support from the leadership team, Riehle started Project SEARCH with a simple business model: train young people with disabilities in a business setting so they can develop real-world workplace skills while building relationships with potential employers. To fund the program, Riehle convinced leaders of the government-sponsored training and vocational programs in her community to put their resources and personnel behind the pilot project and see if they could generate better results.
That step was key, she said, because it meant the businesses she wanted to partner with wouldn't have to foot the bill for training; that made it easier for her to persuade them to get on board.
How It Works
The one-year school-to-work program takes place entirely within a workplace during the students' last year of high school. Project SEARCH partners with a business and brings 10 to 12 students to the company, along with job coaches and trainers who facilitate a combination of classroom instruction, career exploration and hands-on training through worksite rotations. The business partners provide space for a classroom, department mentors and opportunities to complete mini-internships in each department under the job coaches' guidance.
Riehle said the internships cannot be work that no one else wants. They have to provide the students with meaningful skills. Many internship positions involve complex but systematic work that features a lot of routine, such as data entry, stocking, filing, prep work and production tasks. "We find with the right training, these students are incredibly capable in these roles," she said.
Throughout the program, the coaches liaise with business mentors to make sure they select the right jobs for the students. Coaches continue to support students and mentors on the job to ensure the internship is successful. At the end of the program, host companies are encouraged to hire any students who are a good fit for the business and to help the rest of the students find positions with other local businesses.
When she first launched Project SEARCH, Riehle thought it would just be a hospital training initiative, but it's grown. "The program has been embraced with an astounding degree of enthusiasm that we never could have imagined in those early days," she said. Since its launch in 1996, it's grown from one site at CCHMC to more than 350 sites in businesses around the world, including banks, hospitals, hotels, museums, health insurance companies, tech companies and federal government offices.
In contrast to the low employment rates coming out of traditional vocational efforts for disabled students, Project SEARCH graduates boast a nearly 70 percent employment rate. "It's one of the best in the country, and we continue working to make it better," Riehle said.
Reluctant Mentor to Avid Champion
Part of what generates such a high success rate is that the program's benefits don't end with the students. The companies that participate in Project SEARCH find great employees who love their jobs and often stay in positions that have traditionally high turnover. It also generates a culture of diversity and inclusion that causes people to rethink long held opinions. "When we show people what these students can accomplish, it changes the hearts and minds of all the employees," Riehle said.
Todd Reese, assistant vice president of loan and card services at Fifth Third Bank in Cincinnati was one of those employees. Ten years ago, Fifth Third launched its first Project SEARCH program, and Mitch Morgan, assistant vice president and leadership development program manager, asked Reese to hire one of the students into his department.
Reese said he was hesitant. He had just taken over as custodian of the bank's file vault, and was already struggling with low morale and poor productivity on his inherited team. "I wasn't sure how I was going to deal with one more person who needed a lot of special attention," he said.
Despite his concerns, Reese agreed to participate. His first employee was Nathan, a young man with Down syndrome. Reese worried he wouldn't be able to communicate with Nathan, and he assumed he wouldn't be able to do much more than basic filing tasks, but Nathan quickly realized how wrong he had been. He was great at data entry and managing complex tasks like document prep work and running the data imaging machines. "He was capable of so much more than I initially gave him credit for," Reese said.
Reese also liked Nathan; he said the two clicked right away. "He has an amazing work ethic, he loves the bank, he loves his job, and he is always smiling." His enthusiasm had a positive effect across the department. "Before we knew it, everyone was invested in making sure that Nathan succeeded. Within a couple of months, it changed the whole atmosphere on the team."
After the Project SEARCH program ended, Reese asked for another graduate. His second hire was Collin, a young man with autism who not only succeeded in his job doing data entry, but also amazed Reese with his speed and accuracy. Collin's first project was to manually enter 25,000 nine-digit customer codes into a new database. "The project was complex and critical because the numbers absolutely had to be correct," Reese said.
So when Collin started working first day, Reese was alarmed by how fast he was going. "He was pounding on the keys and he wasn't even looking at the keyboard," he says. Reese was sure he wasn't paying enough attention and that there would be tons of errors, but later discovered that Collin could input 10,000 key strokes per hour without any mistakes.
More astonishing, halfway through the first day Collin told Reese he'd noticed a duplicate. "He had input 16,000 numbers by that point, and he recalled a duplicate that had appeared around number 2,000," Reese said. "And he was right." Collin has become one of the team's most valuable resources. "Anytime we need to find a specific file or piece of information, we rely on him."
While not every Project SEARCH student is a numbers prodigy, they almost always exceed their employers' expectations. Fifth Third currently has 25 Project SEARCH graduates on staff, including mail operators, delivery people, administrative assistants and IT staffers. One graduate was even hired as a clerk in the IT department and now oversees the mobile access approval process for all of the bank's 19,000 employees. "He was a huge surprise for our IT team, but he's doing a great job," Morgan said.
Low Turnover, New Business
Many Project SEARCH companies report the benefits of hiring these graduates often extend beyond individual roles or departments.
David Scott, director of sales at Embassy Suites and Courtyard by Marriott in LaVista, Nebraska, said his hotel initially started the program as a way fill high-turnover positions. "It's a low cost strategy for finding good applicants who've already received training and may stay with the company for years," he said.
However, the program's positive effect has extended further than that. Scott estimated that the hotel has generated more than $600,000 in sales from groups that specifically chose the venue because of the Project SEARCH program. "It gives us a point of difference as a business," he said. "Our guests see these employees, and they appreciate what we are doing."
The program helped the hotel win the Hilton Worldwide Make a Difference endowment award two years running, and the 2014 Adrian Award for excellence in public relations from Hospitality Sales & Marketing Association International. "There are a lot of public relations benefits to being a Project SEARCH host," he said. "I think the program is fabulous, and I tell everyone about it."
It's also been great for productivity. Scott reports very low turnover rates among the students — 8 of the 9 hires are still with the company, and many have been promoted. "If you hire nine people for front-line work, how many are going to be with you two years later?"
Riehle has seen similar dedication at many of the Project SEARCH company sites, including CCHMC. She has had many graduates stay for years at the hospital in positions they enjoy, including four graduates who stock all of the 58 ER rooms every day. "That job used to be done by med students or nurses who didn't really care about the work," she said. "But for these employees, it can be a career that they want to stay in for years."
For companies facing their own turnover issues or low corporate morale, Scott urges them to consider running their own Project SEARCH program. "This is not just about being nice," he said. "Being a part of the program has won us new business, saved us money on recruiting and had an amazing impact on our staff."
It has also had a powerful effect on Scott and many of the managers who've participated over the years. He recalled his first Project SEARCH parent meeting, when he was still uncertain about how it would go. "One parent said: 'I finally have hope for my son.' That memory inspires me every day."