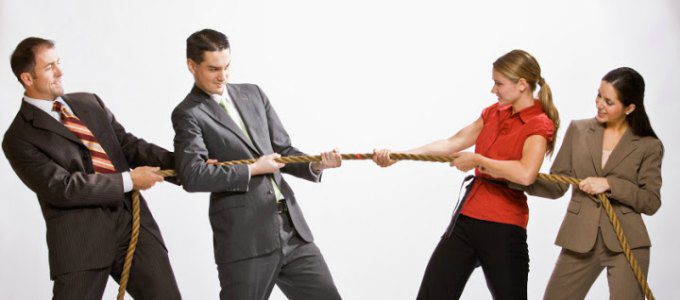 Why Fostering Competition Isn't a Winning Sales Tactic
Developing employees who support each other can boost productivity and sales better than establishing a cutthroat culture.
August 25, 2014
Too many leaders are still designing their sales teams around the cutthroat "coffee is for closers" mentality as seen in the film "Glengarry Glen Ross." While they may be more respectful to employees and use less foul language, perpetuating this kind of intensely competitive approach to sales can create stress and conflict among team members.
Fueling employees' competitive drive is not the only way to boost sales. Look at Zappos' success. One of the company's core values is to "build a positive team and family spirit."
This has obviously worked; Zappos made more than $1 billion in gross merchandise sales in 2008 and was acquired by Amazon for $1.2 billion the next year. But to achieve that level of success, leaders need to do more than just paint new company values on the wall. They need to ingrain positivity and respect in the company culture to develop a supportive environment, build a strong team and increase sales.
While a little friendly competition can be a healthy motivational tool, too much can cause stress and aggression among team members.The single-minded pursuit of numbers can fester into several negative side effects:
Micromanaging: Leaders most likely micromanage when worried about sales, but it's a nightmare to have someone dictate schedules, deadlines and menial tasks. Hovering too much creates stress for everyone, which ultimately hinders performance.
Salespeople working against one another: When people only care about individual success, they start actively working against their co-workers. Sales members need to have separate, distinct territories so an individual win is a win for everyone.
Setting the wrong goals: Goals are important, but unreasonable goals demotivate team members. Goal setting should be a positive, powerful practice to energize a team.
Negative energy: The energy employees put out radiates to customers, vendors and even people in their personal lives. Employees in negative environments often do the bare minimum to get by, which is terrible for numbers. Once the negativity starts flowing, it can be hard to stop.
If leaders are caught in a storm of negativity and their salespeople are at one another's throats, it can be hard to tear down the competitive environment they've built and implement positive team building. However, by making a company-wide effort to promote respect, positivity and mutual success, they can create a healthier workplace.
Start from the top. Real change begins with leadership. Start by developing a clear, positive vision for sales and the company. Invite input from all levels of the company soeveryone has a vested interest in achieving the vision. This process is the first opportunity to focus on teamwork and collaboration.
Don't waste any time putting a vision into action. This is the Alka-Seltzer moment. When leadership is active and enthusiastic about changes, positivity begins to bubble and flow to other team members.
Celebrate the win. Recognize new sales — no matter the size — and celebrate as a team. This motivates the person bringing in the sale and sets a good example for others. For example, hit a gong when an employee makes a sale to generate happiness and excitement in the office.
Show appreciation. Managers must show their appreciation for the sales team's hard work. Experiment with different methods of expression. Sometimes simple handwritten notes are all it takes to make people feel valued. Other times, more formal, public acknowledgments are better. Managers should take the time to learn what's best for each individual.
Invest in the environment. Put resources toward creating comfortable, private workspaces and areas for team-building activities. Even small things like plants can help brighten up an office. A little change of scenery can go a long way toward boosting positivity.
Allow time to socialize. People who work toward the same goals for the company should know one another personally and have opportunities to strategize and share sales tactics. Schedule team-building exercises and activities that foster socialization inside and outside the office. Potlucks, happy hours and bowling are fun ways to get the team together.
Invest in helpful technology. There are many great customer relationship management tools that make sales easier. NetSuiteallows sales staffsto check on inventory, sales, invoices, accounting and fulfillment all at the same time. The more stress that can be eliminated from the sales process, the happier a team will be. Other useful CRM tools include Contactually, Batchbook and Salesforce.
Unfortunately, most companies are closer to the "Glengarry Glen Ross" scenario than they'd like to admit. Although change can be daunting, it's necessary to grow a strong sales team and improve numbers.
"This amazing culture [of] 'all for one and one for all' is the key reason we have reached such great successes in a short amount of time," said Karina Maxey, director of sales and business development for drug testing technology company Confirm BioSciences, where the author works.
By collaborating and creating an environment that promotes teamwork and respect, sales-driven organizations' employees will be happier, and they'll pass on that positivity to their customers.