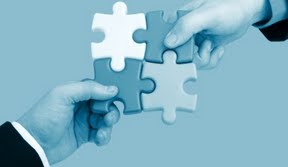 Engage Business Matter Experts in Learning Design
The acronym SME, or subject matter expert, has been used in our industry for as long as I can remember. Involving someone who has mastered the content you intend to teach in the development and design process is pretty much a no-brainer. But it may be time to consider some new approaches.
As learning professionals, we are being pushed to move our training offerings beyond mastery and into the workflow, and to measure by our ability to affect true performance. Memorization is out. Application and adaptability are in.
There is ever mounting research that suggests the more you know, the further behind you might be due to the dynamic nature of content in today's world of work. More learners depend on their network of support resources to keep them current in the moment and count less and less on things they've memorized or mastered. Not because there aren't important things to know and to learn, but because most things become dated more quickly than we are able to teach them.
These trends challenge the role of SMEs as we have traditionally known them. SMEs are often the keepers of knowledge and have what they hope is a realistic view of the future state when and if our training can be created in a timely manner. As the dynamic world of work changes around them, the gap between what an SME knows and his or her ability to truly understand how it fits into the workflow grows wider by the day. Not that we should discontinue SME use, but it does challenge us to open our design methodologies and, more importantly, our ability to keep learning and support solutions current.
Enter the BME. BMEs, or business matter experts, walk hand in hand with a SME in the new world of agile design. A BME is your learner. They live in the workflow representing the changing dynamic of what defines performance, and these new stakeholders need to be managed differently. They may not know the new system and may wonder why they're being included in typical design meetings. To make this work:
Set clear expectations before the process starts. SMEs know the content. BMEs know the workflow and the performance gaps new content is meant to fill. A new design model needs to produce two important deliverables: training materials to "fill the cup" and performance support assets to keep it filled. SMEs fill the cup. BMEs help build the performance support assets to keep it filled.
Help the BMEs understand what assets they can research for you. Performance support uses a different set of resources and design constructs than training. They understand the workflow, the resources available and the best way to make them available. This last condition is what makes a BME invaluable. Performance support design is not just about putting a plethora of resources out there and saying, "have at it." It's about designing consumption for those resources in a meaningful and realistic way.
BMEs can facilitate maintenance of support assets. This could be the most important thing they bring to the design and development process. SMEs help us keep up with versions and releases. That's fine for the formal side of training. But the world of work is constantly changing. BMEs stand at the front line of change every day. They often see changes first. We need to create a systemic way for them to help us build those changes back into performance support deliverables.
For us to be effective, our learning programs need to move beyond the traditional world of training, no matter what medium we deliver that through. As our reach extends into the workflow on a daily, hourly and minute-by-minute basis, we need to create a design process that maps to that change. Adding a BME to our already well-informed SME creates a solid team that helps us cover it all.
Bob Mosher is global chief learning and strategy evangelist for Ontuitive and has been an influential leader in the IT training space for more than 25 years. He can be reached at editor@CLOmedia.com.