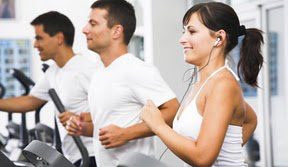 Is Your Talent Pool Innovation Fit or Flabby?
In the 21st century landscape, information and reach are the great equalizers. The "crowd" is the ultimate resource for knowledge and creativity, and the most unpredictable competitor.
Open innovation has emerged as an indispensible strategy to tap the crowd for business advantage. But even open innovation requires that people on the front lines, whether in research and development or engineering, for example, have an advanced level of knowledge. Without such knowledge, it is difficult for them to analyze and synthesize leading-edge technologies, and move them through commercialization swiftly.
What does all this mean to learning in the corporate context? Competitiveness is increasingly dependent on the knowledge and skills of a company's overall talent pool — its own crowd. Innovation itself, like any other knowledge and skill, must be learned and mastered by practice. Innovation also requires competence at the leading edge in one's field of practice, acquired by gathering related knowledge — food for the innovative mind.
Products, services and applications are becoming more complex and bundled, requiring a wide range of knowledge and skills for success. At the same time, the leading edge of these requisite knowledge and skills advances rapidly. There is no competitive alternative to continually advancing the overall technical and innovation acumen of one's entire talent pool.
How to teach the talent pool innovation know-how? Such teaching should focus on the employee and be rooted in fundamentals. Too often innovation lessons:
• Focus on management, culture and operations, rather than the individual factors that drive one to be more innovative.
• Describe ideas and concepts that are based on anecdotal experiences and case studies, as opposed to teaching the fundamentals of how to build innovation know-how.
Additionally, teaching innovation in the context of the 21st century landscape not only requires learning the "soft" science but also the "hard" technologies. Examples of the former are topics like creative thinking and the innovative mind, and the latter subjects like pervasive technologies and data analytics.
What are today's challenges with learning? Employees are busy, geographically distributed, on the move and sensitive to their lifestyle. Learning solutions must be efficient, effective, always accessible and scalable. There has been a proliferation of free and inexpensive online courseware from universities and for-profits. However, resources for learning state-of-the-art technologies are often not available, aside from lack of efficiency in content delivery and accessibility on-demand. Offsite, onsite, online or offline graduate programs and short courses are not affordably scalable and share the aforementioned problems to varying degrees.
Today's learning experience must offer the opportunity to learn independently and collaboratively. The former supports the learner-centric needs, and the latter facilitates peer-centric knowledge transfer.
Independent learning can be quite efficient, effective and scalable with digital technologies, in addition to being learner-centric. However, collaborative learning requires interaction with peers, which is harder to achieve online than in person. An effective strategy is to give a collective assignment early to jell the online learners as a class. Large corporations have an advantage in that their talent pool is geographically clustered, and the groups have local critical mass. Given the diversity of knowledge and skills within the local and remote groups, collaborative learning can be quite powerful. Using online lessons, coupled with peer-to-peer learning within the talent pool, is a balanced approach to effective learning.
What about assessment? Companies should incorporate rigorous assessment as ready feedback in the independent learning phase, using assessment questions that first, round out the learning from a lesson and, second, promote peer interaction for arriving at answers. Assessment questions that are made difficult challenge the learner, which is usually inspiring to technical folks — they like solving difficult problems. This strategy also makes any video portions of these lessons more engaging, focusing to find clues for answers to the assessment questions.
Finally, how to measure return on investment? The pressure for doing more with less and doing it better and faster is unlikely to abate. Learning must therefore be directly responsive to business needs to be viewed as an investment, and not a cost. The results should be measured in terms of business impact, e.g., increased revenue, market share and speed to market to name a few.
This bodes well for needs-driven learning at the leading edge. Further, since topic-specific, leading-edge resources are often not readily available, value is created in producing such resources for the organization.
Mehran Mehregany is the founder of consulting companies NineSigma and QuantaEd. He can be reached at editor@CLOmedia.com.