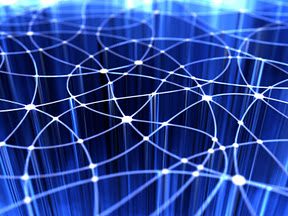 What Can You Expect in 2013?
Apps, videos and more sophisticated blended learning and collaboration schemes are just a few of the learning trends to watch and implement in the next year.
January 9, 2013
As organizations continue to look for ways to enable and improve employee performance, there is an increased focus on talent development. Several trends will drive performance and development in 2013, and learning leaders will need to strategize for mobility.
Imagine a baggage handler accessing a job aid on his or her bag tag scanner or a copy machine service technician connecting via the machine interface to a live, virtual mentor. With mobility, learning and work are not conducted in isolation. Chris Hardy, director of the Global Learning and Technology Center for Defense Acquisition University (DAU), said tablets can seamlessly merge learning, play and work. "This year or next at the latest, tablets will reshape our learning and development world — providing one platform on the job, on the move, for anywhere, anytime learning and performance support."
Other organizations may look to QR codes to enable geo-specific learning. Ernst & Young has been recognized for its innovative use of QR codes accessing content via smartphones. Using personal phones, participants accessed QR codes to sign in for class attendance and to access interest polls. After the classroom event and while traveling to the airport, learners used the codes to complete evaluations and assessments.
Embracing apps: According to ABI Research, 36 billion apps were downloaded in 2012, and 136 billion will be downloaded by 2017. Despite this trend, most corporations have been slow to deploy mobile learning, and even fewer consider adopting learning apps. That may be because while apps are easy to create, they are not easy for corporations to support. There are issues related to device type, content storage, security and determining what content needs to be mobile. However, since apps are about accessing content, there is some potential value for learning if the learning leader can determine how best to use an app's functionality to meet employee and organizational development needs.
In its 2012 underground learning report, Edudemic magazine explored college students' use of mobile devices for learning and found "being able to do one task very well is the key to a good app. Don't try to be a Swiss Army knife for everything in education." Some apps connect students to study groups or link to dynamic content such as RSS feeds. According to a December 2011 issue of Business Insider, the mobile apps analytics firm Distimo said many popular apps were games such as Angry Birds, social networking such as Facebook, Skype and Twitter, and other content such as Google Maps and iBooks. These apps focus on specific content such as playing a game or buying a book. Quite often, the content is dynamic, changing based on a situation, and users can add content.
Moving from pictures to video: Movies, television and YouTube have defined video as a powerful learning medium. It is visually compelling, easily consumed, short in duration, yet long on content. It is also popular. According to Cisco's 2011 Visual Networking Index, 78 hours of new video content is uploaded to YouTube every minute, and Cisco estimates that half of all Internet content is video, increasing to 90 percent in a few years. TED, a nonprofit idea sharing organization, provides popular on-demand access to inspirational talks. Its website cites 12 million viewer hits for one of its episodes featuring education expert Ken Robinson discussing how schools kill creativity. This level of engagement could prompt organizations to build their learning content on the TED video lecture model, leveraging the fact that all generations are experienced at consuming information via video.
The video trend will continue in 2013 as video is embedded into Web courses, attached to learning databases and appears on self-generated YouTube sites, Skype and video-enabled webcasting. "Xerox captures informal and user-generated content and makes it available anywhere, including smartphones," said Steve Rath Morgan, learning process and content manager for Xerox Global Learning. "Our XstreamVideo platform is similar to having a YouTube for learning and allows our people to upload their own experiences via video, as well as photos and audio, thus capturing institutional and workforce knowledge."
Blending blended learning: Blended learning became a hot topic during the past decade as firms realized the power in combining online learning with hands-on workshops. Some organizations now look at development as a learning series instead of a one-time event. Under this micro-learning model, content and activities are offered in smaller chunks of time. Organizations apply what Xerox Learning calls the FIR model, which involves foundational, immersive and reinforcement learning. Here's a summary of how it works:
Foundational learning consists of short modules that teach concepts, process, policies and methods. It typically involves distance delivery models such as Web-based tools. Webcasts, for example, are used to discuss ideas and provide access to experts.
Immersion is the stage where the learner applies learning, often using a classroom for hands-on practice and discussions. Alternatives are virtual learning labs for virtual hands-on software training, 3-D virtual worlds for distance role plays and live or online simulations to model the real world.
Reinforcing learning can involve cadres of learners who chat on a firm's social site. Another example might be hosting on-the-job learning activities and assignments in SharePoint or Moodle. Learners can use RSS feeds to keep current on topics. Other ideas include providing reinforcement videos via streaming video server or corporate YouTube or making aids accessible via tablets.
Author once, deploy to many: As workforce and learner profiles change over time and distance, organizations must develop learning strategies that resonate with new generations and people of different cultures. According to a 2011 Forrester Research report, "Informal Learning Garners Acceptance as a Legitimate Learning Approach," 76 million millennials will make up 47 percent of the 2014 workforce and will soon become middle managers. C-suite positions will also draw from an additional 46 million Gen Xers. These generations are savvy technologists and expect to learn using familiar tools.
As organizations become more dispersed, learning needs to be designed, developed and delivered for global consumption. According to the 2012 "Global Workplace: Learning Beyond Borders" study conducted by the American Society for Training & Development and the Institute for Corporate Productivity, half of the respondents reported their organizations offer global learning or plan to do so within three years.
A global offering can be challenging with inconsistent access to online learning, offline access and language translation requirements. Consider using authoring tools with built-in translation capability to increase speed to market in multiple languages. Chief learning officers and business leaders should build learning modules that can be deployed in multiple formats, and ask not only who the target audience is, but also who else may need to consume the content.
Leverage authoring tools and technologies that add flexibility to content management such as webcasts, Web-based conversion learning tools and others that use HTML5 to enable learning across mobile devices and desktops. "Another game-changer this year is Web-based, collaborative, rapid learning development tool capability," said DAU's Hardy. "With it, we can now easily develop and maintain distance learning courses in-house to develop a course in weeks and maintaining content in days."
Foster collaborative learning: Thanks to Facebook (800 million users), LinkedIn (130 million) and Twitter (150 million), people can communicate with each other in real-time, all the time. These tools are changing the way adults learn. Forrester Research reports that millennials like to learn from each other, contribute to employee networks and search for answers from their colleagues. Collaborative learning can be learner cadres participating in wiki discussions, completing take-home assignments and posting to Moodle, or joining online learning game environments. Collaborative learning also can be informal discussion groups in Yammer, rating content on SharePoint or mashing up a video.
According to the 2011 ASTD State of the Industry report, many organizations are investing in technology-based delivery systems and methods, relying on technology to deliver content through social media tools. As part of this trend, expect to see an increase in massive open online courseware, which enables learners to contribute directly to the content.
Provide one-stop shopping: Learners are often confused about where to go for content when learning is offered via video sites, links to games, traditional learning management systems, corporate databases and social sites. As learning evolves from an event to something systemic, learners need guidance. To remove the confusion, companies are turning to learning portals so learners can search and access information. Organizations have used portals with 3-D virtual worlds, off-the-shelf products such as Unisfair or On24 and custom HTML sites.
Learning portals are used for many things, such as a singular course topic such as on-boarding, to launch an innovation initiative or to act as a user-friendly front door for the LMS. Eyewear manufacturer and retailer Luxottica has an on-boarding portal to facilitate transparency and functionality to not only attract top talent, but to immerse them once hired, said Matt Austin, the company's vice president of talent and organizational effectiveness. "Essentially, it's an open system that allows us to showcase what Luxottica has to offer, facilitates on-boarding and drives a consistent brand message in a highly cost-effective manner."
The classroom isn't going away: A few years ago, risks and costs associated with learning travel led to diminished instructor-led training. Many firms shifted the balance of heavily instructor-led curriculum to Web-based learning. Classroom training is still considered a powerful tool, but firms are moving toward a more strategic approach to when and how they use it.
A common strategy is to provide awareness learning in a virtual format, since most distance approaches lend themselves to comprehension learning, then use classroom learning for skill practice, application and discussions. Classroom time also can be used to increase proficiency levels. A blended approach combining classroom training with distance learning can support the learner's range of proficiency from foundational (distance) to immersion (classroom) to reinforcement (distance). Use simulations where a learner works in teams to resolve multiple challenges and demonstrate technical and soft skills.
Use games to practice skills, increase engagement: Sivasailam "Thiagi" Thiagarajan, founder of training company The Thiagi Group, said anything can be taught through an activity. In his activity-based curriculum design theory, "the activities are not the nice to haves, they are the crux of it all." While simple "Jeopardy"-style games have been used in learning, there are new styles of interactivity that do more than test knowledge; learners can apply what they've learned. For example, Web searches report on content exploration, immersive or complex games provide an environment either live or online enabling the learner to practice, and simulations blend a variety of skills together in real-life situations.
There are also social learning games. In these learners are rewarded for completing learning activities such as quests for anything from applying the skills on the job to participating in discussions on a social bulletin board. Learners may play as a team or individuals. Top performance is tied to their learning and contributions through a leader board. Xerox used social gaming to improve completion scores for new manager training, shifting the percentage of new managers completing the curriculum from 20 percent to 100 percent.
The CLO role is shifting from a learning mindset around a curriculum to a mindset of developing a highly proficient workforce to support the business. In this model, learning is part of a development equation that includes tools such as mentoring, knowledge databases, subject matter experts and peer discussions. John Leutner, head of global learning at Xerox, said his learning organization is "engaged in a shift from training to learning, and embedding learning with work through personalization and mobile support."
According to Bersin & Associates' "Predictions for 2012," "corporate training is in the middle of a major transformation from the centralized, program-centric university model to a deeply integrated 'capability development' organization which understands formal learning, informal learning, social tools, expertise networks and performance consulting."
Bersin said transformation is as big as the e-learning era, which hit the market around 2000. For 2013, learning leaders will continue to develop strong alliances with other leaders in their organizations who control knowledge databases such as SharePoint, corporate social sites such as Yammer, IT infrastructure such as mobile and video capability, and HR leaders who also are tasked with employee development. The focus isn't just on the learner, it's on the business.
Caroline C. Avey is director of innovative learning solutions for Xerox. She can be reached at editor@CLOmedia.com.