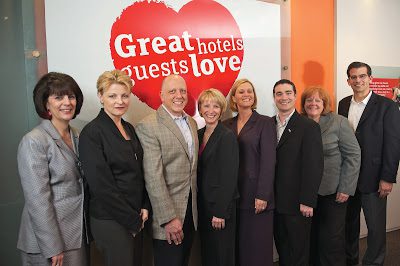 InterContinental Hotels Group: Developing Hospitality
With a business focused on serving people, InterContinental Hotels Group, Chief Learning Officer magazine's No. 9 ranked LearningElite company for 2012, works daily to ensure that its employees are committed to learning and development.
June 1, 2012
InterContinental Hotels Group's (IHG) business strategy is simple but ambitious: It aims to grow its competitive advantage through increased customer loyalty to its brands; deliver strong, sustainable financial performance; and acquire, develop and retain talent to support its growth. IHG's leadership recognizes the pivotal role the learning and development function plays in realizing these goals. Therefore, learning's priorities are tied to the company's business strategies, and all initiatives are designed to support them.
IHG senior leadership realized six years ago that meeting the company's goals would mean doing things differently within L&D. IHG has devoted human and financial resources to learning, streamlining global processes and programs and broadening its focus from a resource-based view to a more holistic approach with differentiated development opportunities for its people.
Within this overall shift, IHG's key initiatives have included: creating a mandatory senior leadership program; incorporating action-learning projects and strategic task force assignments; enhancing use of internal and external coaching; introducing a comprehensive learning management system that hosts an extensive range of Web-based learning opportunities; a social network directed toward senior leaders; and implementation of a global, online performance management system.
As IHG implements various learning strategies across its global employee population of 110,000, results from its annual employee engagement survey help to gauge progress. The engagement survey is deployed online each spring to every corporate employee, asking a variety of questions, and responses generally rate in the high 90th percentile. The learning function can add specific questions relevant to particular strategies implemented in a given year. A second survey is fielded in the fall as a follow-up. The results allow IHG to track shifts in employee satisfaction and attitudes on a short-term basis that may result from implementation of various learning events, as well as assess the impact of long-term strategies.
In 2011, IHG introduced a global on-boarding program as a requirement for new corporate and hotel-level employees to ensure that each individual receives the same information and orientation experience. This approach leverages technology to support a new employee from the moment the offer letter is signed through the first nine months of employment.
IHG's global LMS is accessible by all corporate staff and management-level employees at company-managed and franchised hotels. Its user universe is extended across more than 100 countries and territories. This LMS interfaces with the company's intranet, providing employees with customizable desktop access to a wide variety of learning resources, including virtual classroom-led workshops, live and recorded webinars, telephone conference events, a 24/7 online library and a collection of e-learning offerings.
According to Gary Whitney, vice president of global hotel learning at IHG, the commercial savvy of its learning organization is a distinguishing factor. "We understand and contribute to IHG core business strategies, and our learning strategies, programs and priorities closely align to drive revenue, service and quality performance at our hotels," he said. "I am also particularly pleased by our collaborative relationship with a range of IHG regional and global functions including sales, revenue management, brands, operations, channels and quality."
However, Whitney said there is always room for improvement in IHG's learning offerings, particularly related to retention and measurement, because there is almost always something to learn and improve to ensure learning sticks post-event. "We continue to advance our capabilities in change management, project management and participant communications within the learning organization as we work to create the right environment and support systems to embed learning tools, initiatives and programs at IHG," he said. "We measure participant reaction, booking pace, behavior change, business results and everything in between. However, it is always an ambition to improve at measurement; not just straight ROI for a specific program, but to really understand and evaluate the impact of our learning organization to the IHG system of hotels."